Band: Legion of the Damned
Titel: Descend into Chaos
Label: Massacre Records
VÖ: 2011
Genre: Death/Thrash Metal
Bewertung: 4,5/5
Written by: Much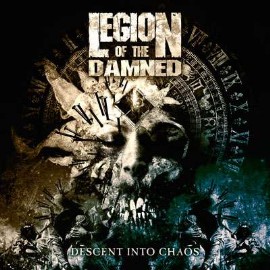 Was wäre der Jahresbeginn ohne eine Veröffentlichung von Legion of the Damned? Das mittlerweile fünfte Full-length ist startbereit und wartet nur darauf, sich in die Gehörgänge zu bohren. Alles in allem hat sich bis auf den Produzenten nicht viel verändert. Würde man das allerdings argumentationslos stehen lassen, wäre der CD-Bericht wohl zu kurz geraten.
Der Namensgeber und zugleich das Intro bereitet mich schon mal vor, die nächsten 40 Minuten nicht durchzuatmen, ehe "Night of the Sabbath" ausholt und in gewohnter Manier zum Tanz bittet. Ein Riffgewitter folgt dem Nächsten. Routiniert hämmern die Blasts zu Maurice Swinkels Gekrächze. Zum Mitgröhler avanciert sich "Shrapnel Rain" mit einem simplen, aber effizienten Refrain.
Ein wenig Tempo eingebüßt hat "Descent into Chaos" in Anbetracht der Vorgängeralben schon, was man nicht unbedingt negativ werten kann, da man dadurch ein wenig mehr Tiefgang serviert bekommt.
Stilbrüche sind grundsätzlich nicht zu erkennen, die ehemaligen "Occult"-isten bleiben ihren Wurzeln treu. Unter die Arme gegriffen wurde diesmal nicht wie gewohnt von Andy Classen sondern Peter "Augenring" Tätgtren entschied sich, dem Album den letzten Schliff zu verpassen. Dies verleiht der Scheibe zusätzlich frischen Wind.
Fazit: 1A Thrash aus den Niederlanden, das Jahr 2011 kann kommen. Dauerbrenner wie "Werewolf Corpse", oder "Malevolent Rapture" findet man hier nicht, dennoch ein gutes Album und ein Pflichtkauf, für Menschen mit strapazierter Nackenmuskulatur. Legion oft the Damned touren gerade per "Neckbreakers Ball" mit weiteren Top Bands durch Europa. Es führt also kein Weg am Merchandise Stand und somit an "Descent into Chaos" vorbei!
Tracklist
01. Intro – Descent into Chaos 01:50
02. Night of the Sabbath 03:32
03. War in My Blood 03:35
04. Shrapnel Rain 04:02
05. Holy Blood, Holy War 04:14
06. Killzone 04:02
07. Lord of the Files 05:22
08. Desolation Empire 04:26
09. The Hand of Darkness 04:34
10. Repossessed 04:53
11. Legion Of The Damned (feat. Peter Tägtgren) 03:07
Besetzung
Maurice Swinkels (voc)
Richard Ebisch (guit)
Harold Gielen (bass)
Erik Fleuren (drums)
Internet
Legion of the Damned Official Website