Band: Lonewolf
Titel: The Heathen Dawn
Label: Massacre Records
VÖ: 20.05.2016
Genre: Heavy Metal
Bewertung: 4/5
Written by: Daniel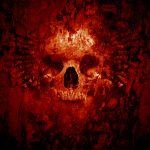 Bands wie LONEWOLF sind das Gold der Szene, denn bei ihnen weiß man was man bekommt.
Allen Unkenrufen zum Trotz hauen die Franzosen seit der Wiedervereinigung 2000 in schöner Regelmäßig Alben raus die guten, manchmal auch sehr guten Stoff für Running Wild und Grave Digger Fans beherbergen.
Die Behaarlichkeit der sympathischen True Metaller hat im Laufe der Zeit für eine kleine Anhängerschaft gesorgt und dafür, dass LONEWOLF immer mehr zum Kult gehandelt werden.
Die Probleme der Band sind dabei immer wieder, das die Alben nur eine begrenzte Zielgruppe erreichen können und auch viel durchschnittliches deren Alben füllt.
Da ich ab dem Zweitwerk alle Alben kenne, kann ich mit Fug und Recht behaupten, dass das neue Werk eine echte Überraschung ist. Diesmal haben die Herren sich selbst übertroffen, das achte Album THE HEATHEN DAWN bietet nicht nur den besten Sound, sondern auch die mit Abstand stärksten Songs der gesamten Bandhistorie.
Also das von Secrets Of Merlin inspirierte Intro A Call To Wolfes sowie das etwas kitschige Wolfsblut, bei dem ich das Gefühl nicht loswerde das der Anteil von Charles Greywolf (Mix, Mastering) immens war, einmal ausgenommen.
Die "Running Digger" oder wegen meiner auch "Grave Wild" – Tracks Demons Fire und Rise To Victory sind spielfreudige Energiebündel, das vor teutonischer Energie nur so strotzende Keeper Of The Underworld sowie der Titeltrack werden Live – Vorschlaghammer sein, das treibende When Angels Fall hat den besten Mittelpart den die Franzosen jemals geschrieben haben und einen sehr geilen Refrain.
Dazwischen gibt es mit Until the End und Into the Blizzard ebenfalls guten Stoff, bevor man über das saustarke Birth Of The Nation mit dem eingängigen Song For The Fallen und dem Digipack – Bonustrack I Choose The Dark wohl die Songs der Karriere schlechthin präsentiert. Fans werden sich freuen, Kritiker dürfen diesmal schweigen, denn so gut wie hier waren die True Metaller noch nie. Also eintüten und abbangen!
Trackliste:
01. A Call To Wolfes
02. Wolfsblut
03. Demon's Fire
04. Keeper Of The Underwolrd
05. When The Angels Fall
06. Until The End
07. Rise To Victory
08. Heathen Dawn
09. Into The Blizzard
10. The Birth of a Nation
11. Song For The Fallen
12. I Choose The Dark
13. Mother Faith
Bestezung:
Jens Börner – vocals, guitars
Michael Hellström – guitars
Rikki Mannhard – bass
Bubu Brunner – drums
Lonewolf im Internet:
Homepage