Band: Lords Of The Trident
Titel: Frostburn
Label: Killer Metal Records
VÖ: 2015
Genre: Power Metal
Bewertung: 4/5
Written by: Thorsten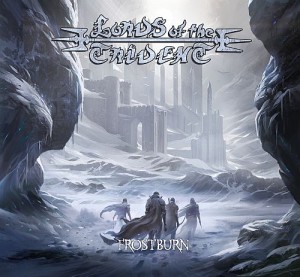 Wer bitteschön sind LORDS OF THE TRIDENT, warum rennen die so bekloppt angezogen rum und warum gibt es die seit 2009 und sind nun knapp 6 Jahren an mir vorbei gegangen?
"Naja, man kann halt nicht wirklich immer alles kennen", dachte ich mir und schob ohne Vorwissen oder Ahnung die CD in den Schacht und ich war sehr angenehm überrascht!
Melodischer Heavy / Power Metal US Amerikanischer Prägung bläst ganz ordentlich aus meinen Boxen zur Attacke. Die Stimme erinnert manchmal Hr. Kakko (Sonata Arctica), manchmal an Hr. Meine (Scorpions), ist aber doch eigenklingend, manchmal auch etwas dünn…
Musikalisch ist das bestes Ohrenfutter für Metalpuristen und Traditionalisten, denn auf "Frostburn" lassen die LORDS gern auch mal etwas NWOBHM durchklingen und geben sich so einen kleinen MAIDEN-Touch der aber nicht ärgert sondern positiv auffällt, er fügt sich bestens in die US Spielart ein.
Auch dass man sich den besten Elementen der großen Metalhelden wie Dio oder Priest bedient, fällt nicht wirklich schmerzhaft auf oder stört nicht, sondern garniert den bereits eingängigen und kurzweiligen Metal der Amerikaner.
Lange Rede, kurzer Sinn:
Macht Spaß, schmeckt nicht wie schon zig mal gehört, langweilt nicht und klingt verdammt frisch!
Alles richtig gemacht (bis auf die seltsamen Verkleidungen und den wirklich beknackten Pseudonymen), 4 von 5 Punkte sind drin!
Der Hörspaßfaktor stimmt doch sehe ich noch ´ne Menge abrufbares Potenzial, weshalb noch ordentlich Luft nach oben ist!
Tracklist:
01. Knights of Dragon's Deep 04:40
02. The Longest Journey 05:16
03. Winds of the Storm 04:28
04. Manly Witness 06:29
05. Haze of the Battlefield 05:09
06. Kill to Die 04:15
07. Den of the Wolf 05:35
08. Light This City 06:13
09. The Cloud Kingdom 00:57
10. Shattered Skies 05:21
Besetzung:
Fang Von Wrathenstein (voc)
Killius Maximus (guit)
Asian Metal (guit)
Pontifex Mortis (bass)
Dr. Vitus (drums)
Internet:
Lords Of The Trident @ Facebook
Lords Of The Trident @ MySpace