Band: Lost Soul
Titel: Atlantis: The New Beginning
Label: Apostasy Records
VÖ: 2015
Genre: Death Metal
Bewertung: 3.5/5
Written by: Lex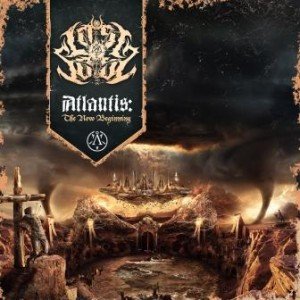 "Atlantis: The New Beginning" ist der fünfte Longplayer aus dem polnischen Schlachthaus von Lost Soul, die mittlerweile immerhin schon 20 Jahre bestehen und hoffen mit diesem Release endlich den Schlüssel zur Erlangung der Weltherrschaft geschmiedet zu haben.
Ganz so mächtig kommt mir das Album nicht vor, dass der Vierertrupp es sich deswegen auf dem Sterbemetallthron bequem machen, Behemoth & Co ins Gesicht furzen und mit einem majestätischen Fingerzeig weltweit Moshpits auslösen könnte. Andererseits bietet "Atlantis…" jedem Fan von dunklem, atmosphärischem Death Metal mit technisch höheren Ansprüchen endlich höherwertigen Nachschub. Heftiges technisch aufwändiges Riffing, kehliges Growling, hier und da Einsprengsel finsterer Chorgesänge, das alles ergibt einen dichten okkulten Fluss aus souveräner Brutalität.
Vertonte Dunkelheit mit hohem Totschlagfaktor, dem zur Königsliga nur noch etwas markanteres Songwriting fehlt.
Tracklist:
01. Hypothelemus
02. Aqueous Ammonia
03. Ravines Of Rapture
04. Unicornis
05. The Next Generation
06. Vastitas Borealis
07. Perihelion
08. False Testimony
09. Frozen Volcano
10. Atlantis
Bonus-Tracks:
11. Red Giant
12. Sonidos Del Apocalipsis
13. Supernovae
Besetzung:
Jacek Grecki (Vocals / Guitars)
Marek Gołaś (Guitars)
Damian Czajkowski (Bass)
Asmodeus Draco Dux (Drums)
Internet:
Lost Soul Website