Magnum – Lost On The Road To Eternity
Band: Magnum
Titel: Lost On The Road To Eternity
Label: Steamhammer/SPV
VÖ: 19.01. 2018
Genre: Melodic Rock
Bewertung: 5/5
Written by: Lex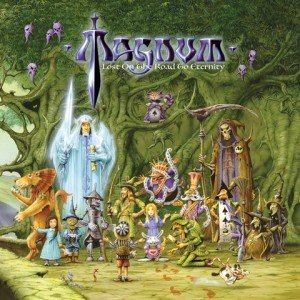 Über Magnum braucht man nicht viele Worte zu verlieren, denn die Briten sind einfach eine Konstante in Sachen melodischen Hardrocks unvergleichlicher Qualität. Selbst in gelegentlichen Formtiefs hat Magnum mit der schlicht magischen Stimme eines Bob Catleys, der sogar in eine Steuererklärung einen tieferen Lebenssinn hineinsingen könnte, einen unschätzbaren Vorteil.
Mit "Lost On The Road To Eternity" liegt ohnehin kein Tief vor: Schon der Opener "Peaches And Cream" vereint besagte, nie alternde Wunderstimme mit unverwechselbaren Melodien und erstklassigem Songwriting, und läutet damit lediglich die Ringglocke für 10 weitere Highlights ein (insbesondere den Titeltrack will ich hier noch einmal ganz fett herausstreichen).
Mir fährt dieses mittlerweile zwanzigste (!) Studioalbum hervorragend ein; auch im direkten Vergleich mit Klassikern wie "On A Storyteller´s Night" fällt "Lost On The Road To Eternity" nicht im Geringsten ab.
Tracklist:
01. Peaches and Cream
02. Show Me Your Hands
03. Storm Baby
04. Welcome to the Cosmic Cabaret
05. Lost on the Road to Eternity
06. Without Love
07. Tell Me What You've Got to Say
08. Ya Wanna Be Someone
09. Forbidden Masquerade
10.Glory to Ashes
11. King of the World
Besetzung:
Tony Clarkin (Guitars)
Bob Catley (Vocals)
Rick Benton (Keyboards)
Al Barrow (Bass)
Lee Morris (Drums)
Internet:
Magnum Website