Band: MALACODA
Titel: RITUALIS AETERNA (EP)
Label: Selfreleased
VÖ: 02.12.2016
Genre: Horror Symphonic Power Metal
Bewertung: 3,5/5
Written by: Maze P.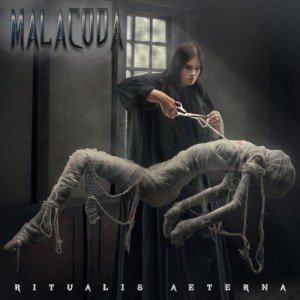 Die aus Kanada stammende Band Malacoda haben sich dem Horror verschrieben. Ihr Stil ist aber eindeutig dem Symphonischen Power Metal zuzuschreiben. Die mir in die Hände gefallene neue EP Ritualis Aeternis ist der Nachfolger der aus dem Jahr 2014 stammenden Debut-Scheibe " Malacoda". Ich weiß jetzt nicht, woher die Band ihren Namen hat, aber da ich die Band nicht kannte, musste mir Mr. Google dabei helfen, ein wenig über die Band herauszufinden. Als erstes tauchte mal eine hohe Spielkarte des Kartengames Yu-Gi-Oh! auf. "malacoda netherlord of the burning abyss" heißt diese. Naja, warum eigentlich nicht? Als nächstes dann schon der Wikipedia Eintrag. Daraus lässt sich nun schließen, dass der Name aus Dante´s Inferno stammt, der Hauptprotagonist Lucas Di Mascio, ein Multi-Instrumentalist, die Band anfangs als Studio-Projekt führte und sich nach und nach aufgrund der Suche nach Live – Musikern, eine richtige Band herauskristallisierte. Soviel dazu.
Was beinhaltet denn nun diese 6-Track EP? Für mich eine gute Mischung aus Horror, Symphonic Power Metal, gepaart mit dunkler Athmosphäre, Originalität und Innovation. Richtig gut! Dieser Mischung sei noch ein wenig Gothic Romance beigefügt und fertig ist das gut abgeschmeckte Dinner um Mitternacht zu Helloween. Die Produktion ist hier der einzige negative Beigeschmack, denn diese kann weitaus intensiver und kraftvoller sein, aber das machen die Songs in ihrer ganzen Songwriting – Intelligenz wieder wett. Hier bin ich wirklich gespannt auf das was hier noch kommen mag, in Form des nächsten Longplayers…
Die Worte von Mastermind Lucas Di Mascio treffen hier eindeutig ins Schwarze:
"After a long journey filled with equal measures of happiness and misery, large helpings
of hope and despair, and a pinch of euphoria and rage…. we can finally say "It's here!"
Enjoy the tracks, and we'll see you on the road soon…. These six tracks are full
of character and are definitely a sign of things to come."
So will ich das mal stehen lassen. Daumen hoch! Rock on
Tracklist:
01. Penny Dreadful (5:34)
02. I Got A Letter (4:37)
03. Pandemonium (3:39)
04. The Wild Hunt (4:20)
05. Linger Here (2:23)
06. There Will Always Be One (3:47)
Besetzung:
GUITAR / BRAD CASARIN
DRUMS / MIKE HARSHAW
VOCALS / LUCAS DI MASCIO
BASS / COOPER SELDON
KEYBOARDS & ORCHESTRATION / JONAH WEINGARTEN
Internet:
MALACODA Website