Band: Markonee
Titel: Club Of Broken Hearts
Label: New Venture Music
VÖ: 2013
Genre: Hardrock, Melodic Hard Rock
Bewertung: 4/5
Written by: Thorsten Jünemann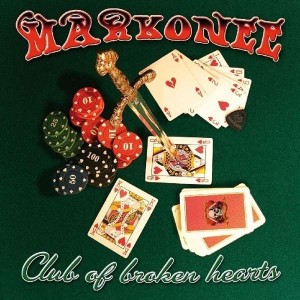 Aus Italien kommen MARKONEE die sich dem traditionellen 80er Hardrock verschrieben haben und hier und da auch gern mal wie die Vorbilder wie z.B. RATT, SKID ROW, usw., klingen.
"Club Of Broken Hearts" ist bereits das 3.Album der Band um Gitarrist Stefano Peresson (DANGER ZONE), und nach den vielen Live-Erfahrungen der letzten Jahre, die man mit sämtlichen Genregrössen abriss, erhofft man sich nun, endlich ein größeres Publikum zu erreichen.
Auch wenn die Zeit nicht unbedingt für die Musik dieser Art schlägt, so hat sie doch noch eine Menge Liebhaber, denen das Album gefallen wird, da es auch einige Höhepunkte zu bieten hat. Aber im Gesamtschnitt und Vergleich mit den in der Info erwähnten Bands, fällt dieses Album dann doch in den "Durchschnittstopf"! Habe schon besseres, aber auch schlechteres gehört. Wie so oft, fehlt hier leider mind. ein Überflieger der mich dazu verlockt, die Repeat-Taste zu drücken, obwohl die Songs eine durchschnittlich gute Qualität besitzen.
Michele Luppi (SECRET SPHERE & VISION DIVINE) gibt sich als Gast auf diesem Album auch die Ehre und gut produziert klingt die 80er Hardrock Hommage auch!
Von meiner Seite klare 4/5 Punkte! Ein bisschen mehr Feinarbeit im Songwriting und etwas mehr Gesangsarbeit, dann sollte dem kompletten 5er Punktesatz nichts im Wege stehen!
Tracklist:
01. Native European
02. I Say No (To The V Words)
03. Club Of Broken Hearts
04. Piper Sniper
05. Never Ever Loved Me
06. Snake Charmed
07. Angel, She Kept Me Alive
08. Big Blue Iceberg
09. Rock City
10. Shaken 'n' Stirred
11. It's 25, Beth!
12. J.E.S.U.S.
Besetzung:
Alessio Trapella (voc)
Stefano Peresson (guit & keys)
Carlo Bevilacqua (guit)
Luigi "JJ" Frati (bass)
Ivano Zanotti (drums)
Internet:
Markonee Website
Markonee @ MySpace