Band: Maxxxwell Carlisle
Titel:  Visions Of Speed And Thunder
Label: Killer Metal Records
VÖ: 2015
Genre: Heavy Metal/Shred
Bewertung: 2,5/5
Written by: Robert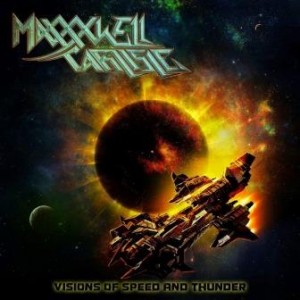 Hellion Gitarrist Maxxxwell Carlisle ist seit 2007 damit beschäftigt auch sein Sidprojekt, welches seinen Namen trägt am Laufen zu halten. "Visions Of Speed And Thunder" nennt sich der neueste Rundling, welcher definitiv im Power Metal Sektor beheimatet ist. Mit Hellion hat dies nicht so viel zu tun, wohl aber mit den nördlichen Nachbarn von Zimmers Hole. Zumindest rhythmisch werden ähnliche Kerben geschlagen, wenngleich das Material oftmals mehr von Synthy Klängen behaftet ist. Die Shreds vom Großmeister sind toll, doch oftmals kommen mir diese zu anbiedernd in den Vordergrund gerückt vor. Auch der Frontmann hält gut die Wage und weiß in allen Tonlagen mit viel Kraft sein Organ zur Geltung zu bringen. Somit wird die US meets Power Metal Keule bestens ausgepackt und hernieder geschmettert. Die teils oftmals im Priest Lager beheimateten Licks geben dem Ganzen Material mal mehr, mal weniger tonangebend die besondere Würze. Es wird jede Menge Schwermetall ausgepackt und oftmals eben in den technischen Shred Bereich gelenkt. Wie gesagt, mag die Gitarrenverrückten begeistern, aber zum Hören, für den normalen Metal Liebhaber kann dies auf Dauer sehr anstrengend sein. Die herkömmliche Power Rhythmik ist hier durchaus wohltuender und genau in diesem Bereich könnte man weitaus mehr raus holen. Die Angebotspalette für den Power Fan ist durchaus vorhanden, dennoch wird ihm das Soligedudel von Mister Carlisle etwas beim Hören die Lust nehmen. Hätte man mehr den Power Sektor ausgebaut, ja dann wäre dies durchaus ein Spitzenalbum. Nun schlecht ist es eben nicht, aber auch noch lange nicht das Gelbe vom Ei. Warum? Nun nach dem x-ten Durchlauf geht einem das Soligeballer schon so dermaßen auf den Senkel, sodass man ganz schnell den Skipp Knopf drückt. Schade, denn die coole Power Metal Ethik geht hier dann sehr schnell flöten. Beim nächsten mal bitte weniger Gitarrengewichse und dafür mehr den Sänger und die Power Metal Rhythmik in den Vordergrund stellen, dann wäre das ein absolut heißes Eisen.
Fazit: US meets Power Metal, welcher leider oftmals mit zu vielen Solis sehr schnell zugekleistert wird. Die Mixtur aus Saxon, Zimmers Hole und Priest lastigen Ethiken wäre echt toll und genau dort sollten die Jungs weitausmehr Kraft schöpfen, dann wäre dies ein absolutes Schmankerl.
Tracklist:
01. Visions of speed and thunder 4:01
02. Marching with the dragons 4:54
03. Full metal thunder 4:0
04. The power of metal compels me 4:36
05. Power angel 3:58
06. Visions of victory 3:2
07. Ramming speed 4:22
08. Thunder fortress 4:15
09. Duet for electric guitar and electric cello in A minor 4:5
10. Axxis accelerator 6:32
11. Speed force 3:32
Besetzung:
Maxxxwell Carlisle, (guit)
Dave Chedrick (drums)
Michael Yancy (voc)
Melody Schoenfeld (voc)
Gene Migaki (bass)
Internet:
Maxxxwell Carlisle Website
Maxxxwell Carlisle @ MySpace
Maxxxwell Carlisle @ Reverbnation