Band: UFO
Titel: A Conspiracy Of Stars
Label: Steamhammer/SPV
VÖ: 20. Februar 2015
Genre: Hard Rock
Bewertung: 4/5
Written by: Lazer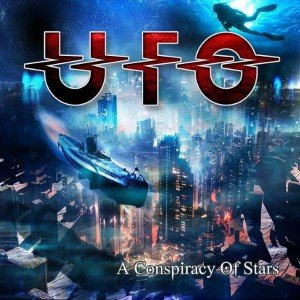 Mit dem 22. Studioalbum Namens "A Conspiracy Of Stars" setzen die britischen Rocker UFO ihrer schon fast unglaublichen Liste an produzierten Alben noch eines drauf.
Seit 1969 mischen die Herren nun schon mit im Geschäft. Ihr neuestes Werk ist ein Output sondergleichen. Elf Tracks voller Hörgenuss. 50 Minuten darf man der Rock/Hard Rock-Show von UFO fröhnen. UFO pressen nach mehr als 45 Jahren Erfahrung sehr homogene und massive Arrangements auf den Rohling. Die Melodien sind eingehend und setzen sich umgehendst fest. Die Riffs sind kernig und die Drums knackig. A Conspiracy Of Stars verfügt über ein sehr abwechslungsreiches Songwriting und somit kommt nie Langeweile auf. Geschickt verbauen sie das Ein oder Andre Soli und machen die komplette Platte sehr rund und mehr als hörbar.
Mein Fazit: 45 Jahre an Erfahrung spiegeln sich definitiv auf diesem Album wieder. Man kann einfach nicht mehr sagen, als – richtig tolles Teil!
Tracklist:
01. The Killing Kind
02. Run Boy Run
03. Ballad Of The Left Hand Gun
04. Sugar Cane
05. Devils In The Detail
06. Precious Cargo
07. The Real Deal
08. One And Only
09. Messiah Of Love
10. Rolling Rolling
11. King Of The Hill (Bonus Track)
Besetzung:
Phil Mogg – Vocals
Paul Raymond – Keyboards, Guitars
Vinnie Moore – Guitars
Andy Parker – Drums
Rob De Luca – Bass
Internet:
UFO Website
UFO @ Youtube