Band: Maze Of Terror
Titel: Ready To Kill
Label: Empire Records
VÖ: 2016
Genre: Thrash Metal
Bewertung: 4/5
Written by: Lex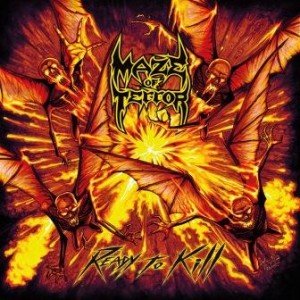 Ich habe ein eher gespaltenes Verhältnis zu Thrash Metal, weil er allzu häufig einfach nur langweilig und überflüssig ist. Ungefähr so stelle ich mir die Gründung diverser Langeweilerbands vor.
"Hey, spielen wir Progressive Metal?"
"Ne, keinen Bock mein Instrument so gut zu lernen:"
"Heavy Metal?"
"Ne, da hört man, dass wir keine Songs schreiben können."
"Death Metal?"
"Zu anstrengend, da könnten wir glatt in Schweiß ausbrechen:"
"Ok, dann Thrash Metal, das liegt dazwischen: Langsamer, keine Songschreiberei, und singen muss auch keiner können."
Vielleicht liegt es daran, dass "ne Band haben" in Peru noch kein Hobby ist, das von jedem dritten Langhaarigen mit Metallica-Shirt betrieben wird, aber bei Maze Of Terror LEBT es noch: Die in Riffs und Raserei, keifenden Kotzgesang und hasstriefende Lyrics gegossene Essenz der Vernichtung – der Brutal Thrash Metal!
"Ready To Kill" hat diesen gewissen Poltergeist in sich, der Alben wie "Reign In Blood" innewohnt und den man sich nicht einfach aus dem Death/ Black Metal borgen kann: Die schwitzende, vergnügt geifernde Heiterkeit des Bösen – Yeah!
Ein äußerst starkes Debut, das sich irgendwo zwischen alten Kreator und legendären Slayer seine eigene Nische freibombt. Wenn Razor und Criminal Mind in Zukunft markantere Riffs aus ihren Saiten metzgern und Leviathan sich die Vocals einen Tick verständlicher aus der Kehle vergewaltigt, steht einer vollen Punktzahl absolut nichts mehr im Wege.
Tracklist:
01 Rotting Force
02 Lycanthropes
03 There Will Be Blood
04 Violent Mind Of Hate
05 World's Dead Side
06 Bringer Of Torture
07 Protectors
08 Executio Bestialis
09 Blooded Past, Burning Future
10.Gilles De Rais
Besetzung:
Leviathan (Bass & Vocals)
Hammer (Drums)
Criminal Mind (Guitars)
Razor (Guitars)
Internet: