Band: Meridian
Titel: Breaking The Surface
Label: Mighty Music
VÖ: 16.09.2016
Genre: Heavy Metal/Melodic Metal/Hard Rock
Bewertung: 3/5
Written by: Peter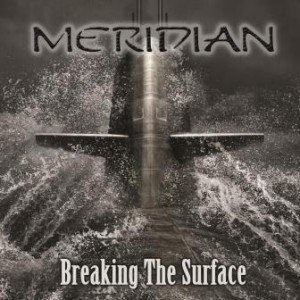 Ich bin heute morgen nicht einmal mit dem falschen Fuß aufgestanden, aber dennoch habe ich große Lust, den dänischen Melodiemetallern von Meridian, deren Zweitling Breaking The Surface hier zu besprechen ist, die Leviten zu lesen. Aber mal der Reihe nach.
Die Truppe hat bereits 2013 ein Debüt namens Metallurgy veröffentlicht, das ich bis dato nicht zu Gehör bekam. Was man am aktuellen Rundling bietet, ist stets melodische Rock Musik, die sich irgendwo in der Schnittemenge zwischen Hard Rock und Melodic Metal findet. Dabei bleibt man jedoch meist auf der Seite des Rocks, stößt kaum in wirklich metallische Härteregionen vor. Das muss ja an sich nichts schlechtes sein, aber leider ist es bei Meridian einfach vorhersehbar geworden.
Und das ist auch der Grund, warum ich ihnen gerne die Leviten lesen möchte: Sie sind offensichtlich talentierte und auch erfahrene Mucker und Songwriter, aber das, was sich auf dem Silberling befindet, ist einfach ZU durschnittlich, um wirklich Eindruck zu schinden. Es gibt werden Kanten-Riffs, noch Ecken-Breaks, die das bewirken könnten. Alles in allem melodische Gitarrenlinien, dazu melodischer Gesang; beim linken Ohr hinein, beim rechten wieder raus, ohne das dazwischende liegende Musikgehirn (das der Verfasser zumindest in Rudimenten zu haben glaubt) zu stimulieren. Sorry Jungs, aber über Durchschnitt kommt ihr bei mir nicht hinaus!
Tracklist:
01. Rumours Of War
02. Hero Forever
03. Bricks To The Wall
04. City Of Holy War
05. Pure Celebration
06. The Bravest Face
07. Enigma Coding
08. The Meaningless Wrong
Besetzung:
Lars Märker – vocals
Martin J. Andersen – guitars
Marco Angioni – guitars
Peter Bruun – bass
Klaus Agerbo – drums
Meridian im Internet:
Meridian Official Homepage