Band: Miles To Perdition
Titel: Blasphemous Rhapsody
Label: Self Released
VÖ: 2014
Genre: Melodic Death Metal
Bewertung: 3/5
Written by: Lex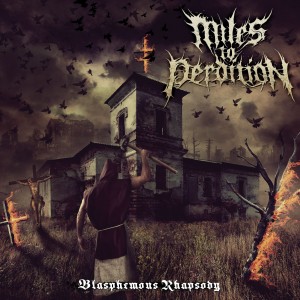 Miles To Perdition aus Luxemburg sind seit 2008 unterwegs, haben sich seitdem vom ursprünglich gezockten Metal Core mehr Richtung Melodic Death verabschiedet, und mit Blasphemous Rhapsody nun das Full Length Debut in Eigenregie veröffentlicht.
Vorbilder sind Bands wie At The Gates, Black Dahlia Murder, All Shall Perish und Konsorten. So wie man diese akustisch nicht großartig unterscheiden konnte, ist das auch bei Miles To Perdition der Fall. Sie klingen exakt wie ihre Vorbilder.
Was treibt diese Bands nur immer dazu, diese hysterisch kreischenden Vocals einzusetzen und immer diese ewig gleichen Riffs herzunehmen, die schon vor zig Jahren so reizvoll waren wie brauner Reis mit Brennesseltee? Sei es drum, Miles To Perdition machen das eher besser als die Mehrheit an Bands, die sich dem alten Göteborg-Sound verschrieben haben. Wer auf den Sound steht, darf gern noch einen Punkt drauflegen.
Der Rest der Metal-Welt deckt seinen Melodeidel-Death-Bedarf lieber weiter bei Arch Enemy ab, die auch tatsächlich Melodien in ihren Songs haben.
Tracklist:
01. Si Vis Pacem Para Bellum
02. Pray to Destroy
03. In Defiance Of Defeat
04. Ally And Eradicate
05. Slave Nation
06. Karmasutra
07. Us, Pathetic, Unwilling
08. Blasphemous Rhapsody
09. Circles
Besetzung:
Kenni (Vocals)
Mulli Mulles (Bass)
Schoey (Guitar)
Marco (Guitar)
Pascal la Heck (Drums)
Internet: