Band: Mind Maze
Titel: Back from the Edge
Label: Inner Wound Recordings
VÖ: 2014
Genre: Melodic Progressive/Power Metal
Bewertung: 3.5/5
Written by: Lex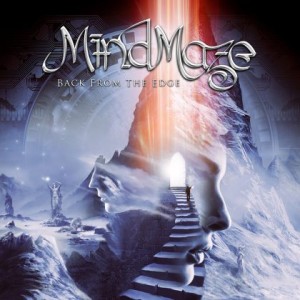 MIND MAZE haben sich mit Bassist Mike LePond (Symphony X) mächtige Schützenhilfe an der Instrumentenfront geholt. Desweiteren steuert Jens Johansson (Stratovarius) seine Keyboards für den Track "Moment Of Flight" bei, und Matt Johnson (Pharaoh) lässt sich auf "The Machine Stops" nicht mit seiner Gitarrenarbeit lumpen. Ein weiteres großes Plus sind die sich angenehm frei von allen FemaleFronted-Klischees entfaltenden kristallklaren, aber kräftigen Vocals von Frontfräulein Sarah Teets. Das alles ergibt eine durch und durch melodische High Energy Performance, die für einen angenehmen Albumdurchlauf sorgt.
Soweit die Habenseite, aber bei allem Licht gibt es auf "Back From The Edge" auch ungewollte Schatten zu verzeichnen: Sowenig ich ein Problem damit hätte, das Album als Ganzes noch einmal durchlaufen zu lassen, sowenig ist beim ersten Mal hängengeblieben. Durchgehend hohes Niveau ohne Höhepunkte, wenn man so will. Wir haben es zum Glück mit einer jungen Band zu tun, die sich beim nächsten Release noch einmal kräftig steigern könnte.
Tracklist:
01. Back from the Edge
02. Through the Open Door
03. Moment of Flight
04. Dreamwalker
05. The Machine Stops
06. Consequence of Choice
07. End of Eternity
08. Onward (Destiny Calls II)
Besetzung:
Sarah Teets (Vocals)
Jeff Teets (Guitars, Backing Vocals)
Kalin Schweizerhof (Drums)
Mike LePond (Bass)
Internet:
Mind Maze Website
Mind Maze @ Reverbnation