Band: Monument Of Misanthropy
Titel: Anger Mismanagement
Label: Self Released
VÖ: Februar 2014
Genre: Death Metal
Bewertung: 4,5/5
Written by: Lazer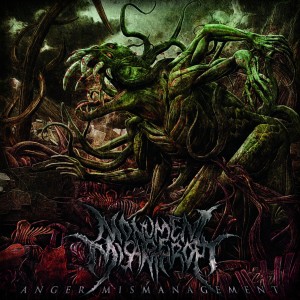 Im Jahre 2012 gegründet, erblickt mit Anger Mismanagement im Februar diesen Jahres Monument Of Misanthropy's Debütalbum das Licht der Welt.
Bäämmm….right in your f*** face!
So oder so ähnlich dürfte die Message des österreichisch-französischen Gespanns an den Rest der Welt sein. Zwar kann man dem illustren Treiben nur knapp dreißig Minuten frönen, jedoch haben es die neun Tracks in sich.
Death Metal in einer seiner brutalsten und reinlichsten Formen. Technisch absolut überzeugend und extrem druckvoll stampfen sich die Songs unermüdlich den Weg in des Hörers Gehörgangs. Dabei trampeln sie alles in Grund und Boden, lassen keinen Stein auf dem Andren. Gitarrentechnisch hat Anger Mismangement einiges zu bieten. Von rauen und brutalen Riffs bis hin zu filigraner Detailverliebtheit ist alles vorhanden – hier leistet Jean-Pierre Battesti überragende Arbeit. Über die Drums muss hier eigentlich kein Wort verloren werden – hämmernd und antreibend bahnt es sich unermüdlich seinen Weg – auch das kennen wir von Romain Goulon (Necorphagist) nur allzu gut.
Georg Wilfinger (Raising The Veil, Disfigured Divinity, Ex-Miasma) ist halt eine richtige Death-Maschine. Seine Vocals sind auch auf Anger Mismanagement brutal und heavy as hell.
Mein Fazit: Sehr gelungenes Debütalbum von Monument Of Misanthropy. Leider etwas kurz, dafür aber sehr brutal, detailverliebt, dreckig und technisch einwandfrei. Aber was soll schon schief gehen, wenn sich absolute Topleute der Szene zusammentun und ein musikalisches Kunstwerk erschaffen. Tolles Album für anspruchsvolle Hörer.
Tracklist:
01. Intro / Foreboding Of Evil
02. Entering A New State
03. Malformation
04. Vegan Homicide
05. Monument Of Misanthropy
06. Bring Me The Head Of LGG
07. Carnal Offering
08. Retarded Phrase Mongers
09. Flag Of Hate (Kreator Cover)
Besetzung:
Georg Wilfinger – Volcals
Jean-Pierre Battesti – Guitars, Bass
Paul Rousseaux – Guitars
Romain Goulon – Drums
Internet:
Monument Of Misanthropy Website
Monument Of Misanthropy @ Facebook
Monument Of Misanthropy @ Youtube