Band: Narthraal
Titel: Screaming From The Grave
Label: Inverse Records
VÖ: 26.5.17
Genre: Death Metal
Bewertung: 3,5/5
Written by: Jasmin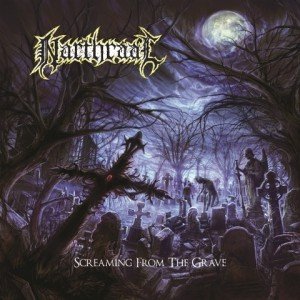 "Screaming from the Grave" ist das Debut der 2012 gegründeten "Narthraal". Die vier Isländer haben bereits zwei EPs veröffentlicht, wobei die erst 2016 erschienene "Chainsaw Killing Spree" zur Gänze auf diesem Album zu hören ist.
Schon auf ihrer Facebook-Präsenz steht geschrieben, dass sie treue Fans und Benutzer des "Boss Heavy Metal 2" sind und dies als einzige Band in Island – das weckt doch Interesse.
Tatsächlich klingt der Sound unglaublich dreckig und verroht, die große Ähnlichkeit zu Schwedendeath ist wohl gewollt, dennoch kann man das hineingesteckte Herzblut fast aus den Boxen rinnen sehen.
Schnelle Riffs und Melodien gallopieren vor sich hin, dazupassender, stimmiger Growl, sehr nett. Besonders gut gelungen finde ich "Feed The Pig", dieses Liedchen glänzt mit raffinierten Effekten und geht sehr schnell ins Ohr. Dennoch wurde für diese Scheibe nichts Neues erfunden und auch besonderen Abwechslungsreichtum beweisen die vier Isländer nicht.
Was noch nicht ist kann aber noch werden denn meiner Meinung nach ist hier viel Potenzial vorhanden.
Tracklist:
01. Death of the Undying 05:15
02. Screaming from the Grave 04:36
03. Million Graves to Fill 05:19
04. Worldwide Destruction 04:41
05. Envy 04:11
06. Descent into Darkness 04:24
07. Blood Path 03:24
08. Symbols of Hate 03:23
09. Feed the Pig 05:12
10. Dismember the Entombed 05:35
Besetzung:
Tony Aguilar – guitar
Viktor Peñalver – vocals, bass
Jónas Haux – drums
Birkir Kárason – guitar
Internet:
Narthraal @ ReverbNation