Band: NightMare World
Titel: In The Fullness Of Time
Label: Pure Legend Records
VÖ: 15.05 2015
Genre: Progressive/Power/Melodic Metal
Bewertung: 4/5
Written by: Daniel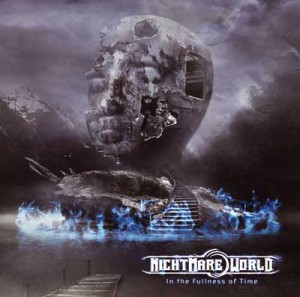 Und wieder Schwein gehabt. In letzter Zeit habe ich wirklich nur super Futter vom Chef zur Besprechung bekommen. Bei den Briten NIGHTMARE WORLD, die Band um Threshold Gitarrist Pete Morten, reizt meine Glücksträhne auch (noch nicht) ab. Geboten wird auf diesem Debüt eine Art Light Mix aus Fates Warning, Queensryche , Threshold , Adramelch und Redemption. Weniger progressiv als eben genannte Bands, aber dafür sehr melodiös und weitestgehend eingängig.
So glänzen Morten und seine Mitstreiter schon mit In Memory Di Me nach dem eher unspektakulären Instrumental The Mara, mit eleganter Melodieführung zwischen den genannten Referenzbands. Und Morten himself überzeugt mit seiner Stimme zwischen John Arch und Geoff Tate auch. Vor allem seine John Arch Gedächtnis – Einlagen bei In Memoria Di Me und dem sehr stark an alte Fates Warning angelehnten Defiance sind eine Ohrenweide. Einen weiteren Höhepunkt markiert Damage Report, das genial zwischen Artizan, Adramelch und Queensryche agiert.
Eine leichte Schwäche ist mit dem straighten, in seiner Eingängigkeit fast schon banal wirkenden, Labyrinth – artigen The New Crusade auszumachen.
Im Vergleich zum Rest, der In The Fullness Of Time rockt, ist dieser Track einfach zu schlicht arrangiert. Dem ähnlich gelagerten, abschließenden Euphoria gelingt dagegen spätestens mit dem hammermäßigen Refrain die Kurve.
Auch No Regrets, das mit einem Judas Priest – Riff eröffnet und dann progressiv fortgeführt wird sowie das vor allem durch seinen abwechslungsreichen Mittelpart bestechende Burden Of Proof sind da von einem anderen Kaliber. Musikalisch eher unscheinbar wirkt das melancholische, vom Gesang getragene The Ever Becoming. Aber Mortens Stimme trägt dieses ruhige Stück mit deiner Stimme und zieht den Hörer letztendlich mit.
Für Fans leicht progressiven Melodic Metals dürfte dieses Album essenziell sein.
Trackliste:
01. The Mara
02. In Memoria Di Me
03. The New Crusade
04. No Regrets
05. Defiance
06. Burden of Proof
07. The Ever Becoming
08. Damage Report
09. Euphoria
Besetzung:
Pete Morten – vocals
Sam Shuttlewood – guitars
Joey Cleary – guitars
David Moorcroft – bass
Billy Jeffs – drums
Nick Clarke – keyboards
NightMare World im Internet:
Homepage