Band: OCEANS OF SLUMBER
Titel: THE BANISHED HEART
Label: Century Media Records
VÖ: 02. März 2018
Genre: Female Fronted Progressive – / Doom / Metal
Bewertung: 4/5
Written by: Dr. Maze Pain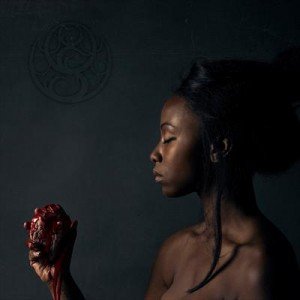 Oceans of Slumber wurden 2011 in Houston, Texas gegründet. 2013 erschien in Eigenregie ihr Debutalbum "Aeterial", welches noch mit dem alten Sänger Ronny Allen erschien und gleichzeitig die Aufmerksamkeit von Century Media auf sich zog. Die erste EP "Blue" erschien dann 2015 bereits mit der neuen Sängerin Cammie Gilbert und enthielt verschiedene Coverversionen. Konzerte und Tourneen folgten und das erste komplette Album namens "Winter" (2016) gab den Startschuss für eine internationale Karriere. Allerdings ließ sich die Band dann weitere 2 Jahre Zeit, um "The Banished Heart" auf den Markt zu schmeißen. Die Begründung hierfür liegt laut Band eher darin, dass soviele kreative Köpfe erst einmal unter einen Hut zu bringen sind.
The Banished Heart liegt mir nun vor und ich muss eines gleich mal vorweg loswerden: Es ist eine wirklich sehr gute Scheibe geworden. Warum? Weil die Band eine Stilmischung aus Progressiv – Rock, Metal, Doom, Death Metal, Groove Metal und eigentlich noch so einiges, was die harte Musik zu bieten hat, unter einen Hut bringt. Aber eben nicht nur als Mischmasch irgendwie zusammengemixt, ohne dass es Sinn ergibt, sondern wirklich mit perfekter Songwriting Qualität – und Intelligenz.
Die Gitarrenarbeit ist hervorragend und vor allem die Stimme von Cammie Gilbert ist hervorragend. Nicht so wie die ganzen Female fronted Symphonic Metal Pieps-Stimmen. Nein! Ganz und Gar nicht. Cammie erinnert mich sofort nach den ersten paar Tönen an Mariana Holmberg, die Sängerin der Band "Left Hand Solution". Auch irgendwie die ersten paar Songs erklingen durchaus in diesem Stil. Gewaltig gut!
Nur hat die Band in der Mitte einen leichten Durchhänger, was aber zum Ende hin mit den Songs "No Color, no Light" und "Wayfaring Stranger" wieder aufgefangen wird und so einen super Abschluss zu einem super Album bildet. Daumen hoch! Rock on
Tracklist:
01. The Decay of Disregard
02. Fleeting Vigilance
03. At Dawn
04. The Banished Heart
05. The Watcher
06. Etiolation
07. A Path to Broken Stars
08. Howl of the Rougarou
09.Her in the Distance
10. No Color, No Light
11 Wayfaring Stranger
Besetzung:
Gesang: Cammie Gilbert
E-Gitarre: Sean Gary
Schlagzeug: Dobber Beverly
E-Gitarre: Anthony Contreras
E-Bass: Keegan Kelly
Keyboard: Uaeb Yelsaeb
Internet: