Band: Old Season
Titel: Beyond The Black
Label: Pure Steel Records
VÖ: 19.05.2017
Genre: Heavy/Dark Melodic Metal
Bewertung: 2,5/5
Written By: Lex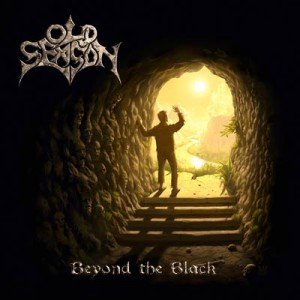 Die Irländer machen sich in Sachen Diskographie keinen Stress: Nach der Gründung 2003 folgte das erste Album 2009, und nun erneut mit langem Abstand das Zweitwerk "Beyond The Black" via Pure Steel Records.
Deutlich ambitionierter zeigt man sich dagegen in qualitativ-musikalischer Hinsicht: Auf der Haben-Seite gibt es knapp eine Stunde melodischen Heavy Metals mit viel Atmosphäre der Marke Dicht-und-Dunkel. Die klaren Vocals als auch die Instrumentalfraktion sind – soweit ich das als gewöhnlicher Proletenhörer beurteilen kann – technisch astrein.
Das Fundament der insgesamt neun Tracks, die durchschnittlich so um die 7-Minuten-Marke liegen, ist stabil und darüber hinaus überaus mit Liebe zum Detail gelegt.
Aber was baut man auf diesem eines Tempel würdigen Fundament? Leider nur musikalische Reihenhäuser: Die Bestandteile der neun Songs klingen für sich genommen überaus interessant und hochwertig, jeder Track als Ganzes dagegen eine schnell den Hörer ermüdende Wiederholung des vorangegangenen. Was dann auch für das gesamte Album gilt.
Fazit: Mit Hingabe gereifter Durchschnitt im Überlängenformat. Enjoy.
Tracklist:
01 A New Dawn
02 Scavenger
03 Chosen
04 Elegy
05 The Journeyman
06 Rivers Of Cepha
07 Words From Beyond
08 The Void
09 Nevermore
Besetzung:
John Bonham (vocals)
Jimmy Blanchfield (guitars)
Jimmy Kiernan (guitars)
Dave Copley (bass)
Anto Walsh (drums)
Dermo Smyth (keyboards, piano)
Internet:
Old Season Website
Old Season @ MySpace