Band: One Machine
Titel: The Final Cull
Label: Scarlet Records
VÖ: 18. September 2015
Genre: Progressive Power Metal
Bewertung: 3,5/5
Written by: Lazer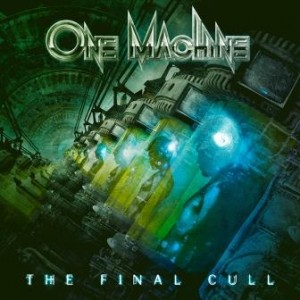 2012 gegründet, haben One Machine heuer ihr zweites Album "The Final Cull" am Start. Progressive Power Metal geben uns die Mannen rund um Ex-Nevermore-Gitarrist Steve Smyth zum Gustieren. Neun Tracks mit ner Laufzeit von 45 Minuten können sich doch schon mal sehen lassen.
Hören lassen können sich die Songs auch alle Male. Mit einem Qualitätsanstieg zum Vorgänger (nicht nur, was die Vocals betreffen) war zu rechnen, beziehungsweise durften wir hoffen. Wir wurden auch nicht enttäuscht, obwohl das Album doch sehr durchwachsen ist. One Machine pressen hier ab und an doch noch eher weniger getroffene Songs auf ihre Langrille. Die Songs, die besser sind, überzeugen aber dann fest. Als Beispiel für gelungenen US-Power Metal respektive Highlights dieser Platte könnte man hier etwa den Titelsong, The Grand Design, Born Form This Hate oder auch Forewarning nennen.
Mein Fazit: Es ist nicht alles Gold, was glänzt. Jedoch können One Machine mit einigen ihrer Tracks hier wertvollen Boden gut machen und die weniger gelungenen Kompositionen fast ausbessern. Megakracher ist The Final Cull nicht, aber man befindet sich definitiv auf einem guten Weg.
Tracklist:
01. Forewarning
02. The Final Cull
03. Summoning Of The Soul
04. Screaming For Light
05. The Grand Design
06. New Motive Power
07. Ashes In The Sky
08. Born Form This Hate
09. Welcome To The World
Besetzung:
Chris Hawkins – Vocals
Steve Smyth – Guitars
Jamie Hunt – Guitars
Stefano Selvatico – Bass
Michele Sanna – Drums
Internet:
One Machine Website