Band: Prong
Titel: Songs From The Black Hole
Label: Steamhammer
VÖ: 2015
Genre: Hardcore, Thrash Metal
Bewertung: 4/5
Written by: Thorsten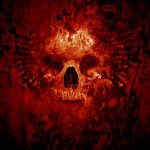 PRONG veröffentlichten letztes Jahr das Album "Ruining Lives" sowie das für PRONG Jünger "Must Have" Album "Unleashed In The West / Live In Berlin", welches man am Merchstand auf der letzten Tour abgreifen konnte.
Anno 2015 warten PRONG mit einer ganz neuen Idee auf…einem Coveralbum!
Aber "Songs From The Black Hole" spricht trotz rechter Originalnähe die Sprache PRONG´s!
Soll heißen, das in bestbekannter Spielmanier und auch abwechslungsreich eigenen Helden aber wohl auch bereits verstorbenen Ex-Bandmates aus Ministryzeiten Tribut gezollt wird.
Basierend auf das musikerlebnisreiche Leben des Tommy Victor werden hier Songs aus allen Dekaden des Hardcore und Punkrock cool wie Trockeneis gewohnt gut produziert durch die Membranen gedrückt.
Das Album funktioniert kurzweilig sehr gut, auch die Version des Songs "Vision Thing" von den SISTERS OF MERCY verdient aufmerksames Gehör…aber letztendlich krame ICH MIR lieber die Originale vor. Es ist ja mal ganz nett, FUGAZI, NEIL YOUNG, DISCHARGE, BLACK FLAG & KILLING JOKE im PRONG Gewand zu hören, und überhaupt ist es gut, etwas von PRONG zu hören…aber mir persönlich hätte ´ne feine Live-DVD/BluRay mehr gefallen als Tommy Victors persönlicher musikalischer Kniefall vor seinen Helden wobei das nichts die Qualität von "Songs From The Black Hole" mindern soll!
Es ist mal unterhaltsam, aber wirklich langfristig gehaltvoll ist anders…
Live sind das garantiert echte Bringer im Zugabenblock und Rausschmeißer…
Tracklist:
01. Doomsday
02. Vision Thing
03. Goofy`s Concern
04. Kids Of The Black Hole
05. The Bars
06. Seeing Red
07. Don`t Want To Know If You Are Lonely
08. Give Me The Cure
09. Banned in DC
10. Cortez The Killer
Besetzung:
Jason Christopher (bass)
Art Cruz (drums)
Tommy Victor (voc & guit)
Internet:
Prong Website
Prong @ MySpace