Band: Psyco Drama
Titel: From Ashes To Wings
Label: Pride & Joy Music
VÖ: 30.10.15
Genre: Power Metal, Progressive Metal
Bewertung: 4/5
Written by: Totti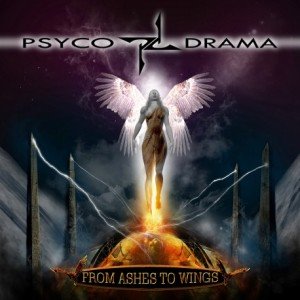 PSYCO DRAMA sind die 2. Band in diesem Monat im Genre Progressive / Power Metal nach Signum Regis, die ich mir unter die Lupe, bzw. zu Gehör führen werde.
Bereits 1990 gegründet, veröffentlichte die Band 1996 ihr Debüt "The Illusion", gefolgt von "Bent" (1997).
Irgendwie wurde es dann verdächtig ruhig um die Amerikaner, die mit ihren ersten beiden Alben für ein Hörfest bei Queensryche / Fates Warning & teilweise auch bei Dream Theater Fans sorgten.
Nun haben die Herren wieder zusammengefunden und veröffentlichen mit "From Ashes To Wings" ein Album, welches sich sehr gut in die bisherige Band-Diskographie einbindet.
Auch die Amis wissen gekonnt, eingängige Melodien und bärenstarke Refrains zu schreiben, die weder zu vertrackt noch zu kitschig ins "Lala-Land" abrutschen.
Powervoller und melodischer US Metal, gespickt mit progressiven Einsätzen bestimmen die Fahrtrichtung des Album und erinnern nach wie vor an Glanztaten der genannten Referenzbands.
Sie erinnern dran…soll heißen:
Hier wird nicht auf beinahe 20 Jahre alten Lorbeeren ausgeruht, hier hat sich das selbe Songwriting-Team zusammengesetzt, das auch für das ausgezeichnete Debüt verantwortlich ist und herauskam nix aufgewärmtes, sondern frischer Wind der hörbar durch meine heiligen Hallen bläst.
Wirklich erinnern oder gar Gemeinsamkeiten im Sound zu Queensryche & Co. sind nicht wirklich zu finden, da fährt die Band besser ihr eigenes Programm.
Auch der Sound hätte etwas volumniöser klingen können, wenn man solch gute Songs an den Start bringt, wobei auch auffällt, das der Gesang nicht immer astrein klingt…
Fazit: Nein, ein Topping oder eine Wiederholung der bisherigen musikalischen Leistung schafft die Band aktuell nicht, aber doch ist es ein hörenswertes Werk, welches nicht nur früheren Followern und Fans der Band gefallen sollte. Der Genre-Monatssieger bleibt in dem Fall aber für mich Signum Regis…
Tracklist:
01. Inferno
02. From Ashes To Wings
03. Far From Grace
04. Requiem
05. Edge Of Forever
06. A New Day
07. All That We Have
08. Broken Road
09. Sea And Sky
10. Paralyzed
11. To Live Again
Besetzung:
Corey Brown (voc)
Hercules Castro (guit & keys)
Ian Ringler (bass)
Greg Sands (drums)
Internet:
Psyco Drama Website

Psyco Drama @ Facebook