Band: The Dahmers
Titel: Demons
Label: Lövely/Cargo Records
VÖ: 06.11. 2015
Genre: Punk Rock/Garage Rock/Rock N` Roll
Bewertung: 2,5/5
Written by: Daniel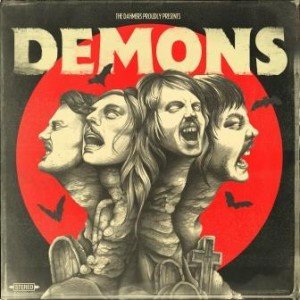 Das schwedische Quartett hat sich nach dem berüchtigten Milwaukee Kannibalen Jeffrey Dahmer benannt. Soweit dürfte die lyrische Bandbreite geklärt sein. Mord, Metzelorgien und dergleichen bestimmen die Texte.
Musikalisch erinnert ihr Stil an 90er Kapellen wie die Hellacopters und vor allem Gluecifer, auch die Ramones scheinen neben alten Horror B – Movies  bei den Verrückten eine gewisse Relevanz zu haben.
Leider wird die Klasse dieser Bands nicht annähernd erreicht, DEMONS plätschert wie so mancher Horrorstreifen meistens so dahin, ist nicht mehr als eine nette Hintergrundbeschallung.
Dass ich es so empfinde liegt vielleicht daran, dass Alben wie Payin`The Dues und Riding The Tiger meine Jugend durchaus prägten.
Damals wie heute relevante Alben, auf denen es eher maue Nummer wie Stalker, I`m Going Insane oder Dripping Blood eben nicht gibt. Zum anderen fühle ich mich ab und an an eine eingestaubte Version der Beatsteaks erinnert, und die sind nicht meine Teetasse.
Vielversprechende Ansätze in Form von Verneigungen gegenüber dem guten, alten Rock N` Roll bei Out Of Here, Way Back Home und Down On My Knees stimmen allerdings versöhnlich und hinterlassen einen soliden ersten Eindruck.
Zumindest Retro und Rotz Rock Liebhaber dürften Spaß an DEMONS haben.
Trackliste:
01. Stalker
02. Out Of Here
03. Creepy Crawl
04. Down On My Knees
05. Dead
06. I'm Going Insane
07. Not Good Enough
08. Way Back Home
09. Dripping Blood
10. Jeffrey
11. With A Knife
Besetzung:
Christoffer Karlsson – vocals, guitar
Rasmus Grahn – guitar
Tobias Augustsson – bass
Karl-Oskar Hansson – drums
The Dahmers im Internet:
Homepage
Facebook

Bandcamp