Band: Pursuing The End
Titel: Symmetry Of Scorn
Label: Bakerteam Records
VÖ: 2013
Genre: Gothic/Symphonic Metal
Bewertung: 2,5/5
Written by: Thorsten Jünemann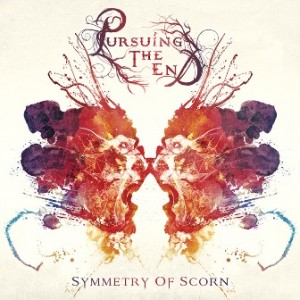 Aus Italien kommen nicht nur hochträllernde Schwertkämpfer und Drachentöter sowie erstklassige Gothic Metal Bands sondern auch PURSUING THE END.
Und auf deren 1. Longplayer (es erschienen in den letzten 2 Jahren bereits 2 EP´s) "Symmetry Of Scorn" geht es musikalisch drunter und drüber, hin und her, laut und leise, trällernd und grunzend…
Eingeleitet wird der Reigen Dubstep-artig, verändert sich aber im Laufe des Songs zu einer symphonischen Death Metal Nummer, in der auch eine Dame episch mitträllert, während die Herren sich ans Rülpsgrunzen halten. Ich habe lange überlegt, ob man das jetzt wirklich für genial halten sollte oder doch nur chaotischer Mist mit guten Ansätzen ist. Der eine nennt das mal gern progressive, ich nenne es an den meisten Stellen ideenlos.
Überhaupt geht mir dieses Pop-Death-Symphonic-Dubstep-Progressive-Core-Chaos schnell auf´m Keks, ich finde es weder künstlerisch bewegend noch innovativ… für mich ist´s und bleibt auch nach dem 6.Durchgang extremer Krach.
Ein sehr aggressives Werk, was bestimmt seine Liebhaber finden wird (grobe Richtung: Extrem Death und Corelastige LACUNA COIL mit Ausflügen in LSD-Death-Corelastige Sphären), doch wird man die wohl an ganz wenigen Händen abzählen können…
Tracklist:
01. The Last Truth
02. Something Remains
03. Cage of Hypocrisy
04. From the Ashes
05. In Vain
06. Mercyful Vengeance
07. Human Revulsion
08. Out of Control
09. Symmetry of Scorn
10. Changes
Besetzung:
Giacomo Benamati (voc)
Chiara Manese (voc)
Davide Rinaldi (guit)
Thomas Pipitone (guit)
Luca Cocconi (bass)
Gregorio Ferrarese (drums)
Internet:
Pursuing The End Website
Pursuing The End @ MySpace
Pursuing The End @ Reverbnation