Band: Rage
Titel: Seasons Of The Black
Label: Nuclear Blast
VÖ: 2017
Genre: Power Metal
Bewertung: 3/5
Written By: Lex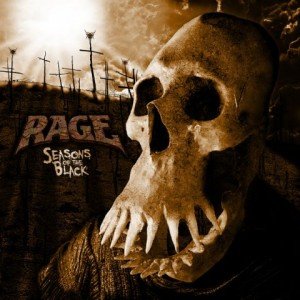 Über dreißig Jahre legt das Powermetal-Urgestein überaus kontinuierlich Alben vor. Mit "Seasons Of The Black" sind wir schon bei Studioalbum Nummer 23 angelangt. Vor so viel Eifer in höheren Dienstjahren gilt es, zunächst einmal respektvoll den Hut zu ziehen. Trotzdem gelang es "Rage" bisher nie, sich über meine mittlerweile doch fast zwanzigjährige Karriere als Metal-Hörer hindurch auch nur ein einziges mal in meine Playlist zu schmuggeln.
Wäre nicht das erste Mal, dass ich verspätet feststellen muss, jahrelang eine gute Band verpasst zu haben – so dachte ich und war gespannt, ob ich nach einigen Durchläufen des neuen Albums bekehrt sein und in die bisherigen weitgehend positiven Echos einstimmen würde.
Derartiges könnte ich leider nicht berichten. Was immer viele an "Rage" im Allgemeinen und "Seasons Of The Black" im Speziellen so begeistert – an mir läuft die Chose bei allem guten Willen einfach vorbei. Ja klar, das Album hat Power, Riffs, hat Druck… Aber mir fehlt auch dieses Mal das gewisse Etwas, um dem thrashenden Power Metal-Urgestein mehr abzugewinnen als ein anerkennendes Kopfnicken für das lange kontinuierliche Schaffen.
Tracklist:
01. Seasons Of The Black
02. Serpents In Disguise
03. Blackened Karma
04. Time Will Tell
05. Septic Bite
06. Walk Among The Dead
07. All We Know Is Not
08. Gaia
09. Justify
10. Bloodshed In Paradise
11. Farewell
Besetzung:
Peter "Peavy" Wagner (Leadvocals, Bass)
Marcos Rodriguez (Guitar, Vocals)
Vassilios "Lucky" Maniatopoulos (drums, vocals)
Internet:
Rage Website
Rage @ Facebook