Band: Don´t Drop The Sword
Titel: Into The Fire
Label: Selfreleased
VÖ: 2017
Genre: Heavy Metal
Bewertung: 4/5
Written by: Lex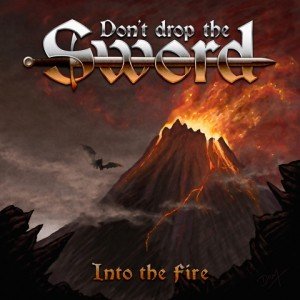 Während einer meiner gelegentlichen Durchforstungen des Bandcamp-Dschungels nach freien Downloads und vielversprechenden unbekannten Bands stieß ich vor einiger Zeit auf die bayrischen Newcomer mit dem hervorstechenden Namen "Don´t Drop The Sword".
Irgendwo stilistisch zwischen guten (alten) Blind Guardian und klassischem US Metal liegend, sollte die "Into The Fire"-EP jeden problemlos glücklich machen, der im guten alten Heavy Metal seine musikalische Heimat hat.
Das Songwriting ist dabei eingängig im besten Sinne, ohne die nötigen Ecken und Kanten vermissen zu lassen. Und Sänger Anti glänzt mit einer etwas raueren, dabei aber dennoch melodischen, vor allem aber durch Wiedererkennungswert bestechenden Leistung.
Herausgekommen ist eine Debut-EP, die keine Wünsche offenlässt. Der schwächste Track ist die Balladennummer "Memories", wobei man hier immer noch auf dem Qualitätsniveau besserer "Hammerfall"-Balladen liegt (an welche das gute Stück auch stark denken lässt). Am besten gleich bei Bandcamp in "Death Or Glory" reinhören und das Album (gratis) herunterladen oder als Hard Copy bei der Band bestellen.
Fazit: Starkes Erstwerk einer aufstrebenden jungen Undergroundband in Sachen erdigen Heavy Metals mit hohem Wiedererkennungswert – So macht auch "Herr der Ringe" Spaß!
Unterstützen und weitersagen!
Tracklist:
01. Death Or Glory 04:26
02. Into The Fire 05:36
03. The Rise Of Neith 03:52
04. Memories 06:52
05. Don't Drop The Sword 04:02
Besetzung:
Anti (Vocals)
Max (Lead Guitar, Backing Vocals)
Alvin (Rythm & Lead Guitar)
Mathias (Bass)
Dom (Drums
Internet:
Don´t Drop The Sword Website