Band: Red Rose
Titel: On The Cusp Of Change
Label: Scarlet Records
VÖ: 2013
Genre: Progressive/Melodic Heavy Metal
Bewertung: 4,5/5
Written by: Thorsten Jünemann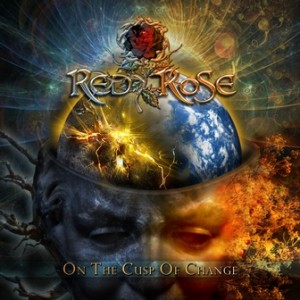 Erstklassig produziert von Tommy Hansen (Helloween, Jorn, usw.) bringen RED ROSE aus Israel nun ihr brandneues 2.Album zu uns, um endlich die Beachtung zu bekommen, die sie damit auch verdient haben.
Gut durchdacht platzierte Keyboards, Melodien ohne Ende, und, und, und….
Die Info spricht von einem Mix aus Melodic Hard Rock, Classic Heavy Metal und Pomp Rock, wobei der Schreiber die progressiven Elemente unterschlagen hat, denn zum Großteil würde ich sagen, sind die Israelis große DREAM THEATER Freunde. Dazu die SCORPIONS ähnliche Stimme (ich musste wirklich mehrere Male hinhören!) und schon ist die bunte Mischung die gut klingt und auch ansatzweise im Ohr bleibend tönt als gelungen zu bezeichnen, doch ist DREAM THEATER allgegenwärtig!
Auch Einflüsse von anderen großen Melodic Metal Bands wie ROYAL HUNT, PRETTY MAIDS, usw. sind nicht von der Hand zu weisen, doch schmälert dies nicht die Qualität des Albums, sondern macht auch weiterhin Spaß anzuhören, denn von den genannten gibt es ja nicht mehr allzuviel zu hören und es ist gut zu wissen, dass die Nachfolger und Hintermannschaften bereit stehen, um ein großes Erbe anzutreten.
Wenn RED ROSE es jetzt noch schaffen, ihren Werken einen erheblichen eigenen Stempel zu verpassen, könnte das in dem Sektor sogar zu etwas Großem reichen.
Aber "On The Cusp Of Change" soll jetzt nicht schlecht geredet werden, denn es hat seine Berechtigung und ist eine spitzenmäßige Visitenkarte, um endlich auch für größere Events gebucht zu werden, denn ich bin neugierig, wie sich die Band live bewegt!
Tracklist:
01. When Roses Faded
02. Chasing Freedom
03. King Of The Local Crowd
04. Original Sin
05. Alone In The Night
06. This Bitter World
07. Don't Believe These Tales
08. Seize The Day
Besetzung:
Leve Laiter (voc)
Elnur Aliev (guit)
Deion Kristen (keys)
Eli Reeve (bass)
Internet:
Red Rose Website
Red Rose @ MySpace
Red Rose @ Reverbnation