Band: Rough Angel
Titel: Hear the Angels rock
Label: Rock N Growl Records
VÖ: 2011
Genre: Heavy Metal
Bewertung: 5/5
Written by: Nicole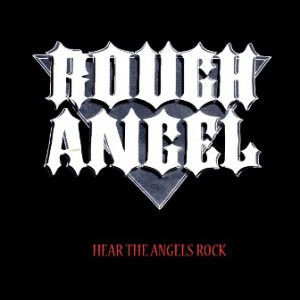 Die US- Band Rough Angel veröffentlichen mit ihrer neuen EP Hear the Angels rock etwas kurioses Material. Diese wurde nämlich bereits 1993 aufgenommen. Damals zu Promo Zwecken aufgenommen, werden sie nun der Allgemeinheit präsentiert.
Als Heavy Metal Fan fängt mich der Start mit Standing by Mirrors gleich ein, lässt auf mehr hoffen, aber der Opener versinkt etwas in Gleichförmigkeit. Alleine der Bass mag hier überzeugen. Der zweite Titel, Defiance mag hier größere Überzeugungsarbeit leisten, die Stimme von Csaba Zvekan verbindet sich perfekt mit Bass und Gitarre. Let it Burn wummert im selben hohen Niveau in die Kopfhörer, leise hören ist hier strengstens verboten! Aber endgültige Gänsehaut verschafft mir der letzte Song, der Titelsong Hear the Angels rock. Eingängige Riffs und ein Refrain, der im Ohr bleibt, schaffen eine drückende Atmosphäre, die den Kopf ganz automatisch im Takt wackeln lässt.
Fazit: Heavy Metal vom Feinsten! Auch wenn man hört, dass es sich um eine ältere Produktion handelt, ist es trotzdem eine gelungene Produktion, um die es schade gewesen wäre, hätte sie noch weitere zwei Jahrzehnte in irgendwelchen Schubladen vor sich hingedümpelt. Schade, dass es nur vier Songs sind, ein paar mehr, und eine LP daraus gemacht, und man hätte viele andere Bands im US-Heavy-Genre durchaus in den Schatten gestellt.
Tracklist:
01. Standing by Mirrors
02. Defiance
03. Let it Burn
04. Hear the Angels Rock
Besetzung:
Csaba Zvekan (voc)
Jimmy Z. (guit)
Marc Mougavero (guit)
Ross Manzo (bass)
Dave Kappos (drums)
Internet:
Rough Angel Website
Rough Angel @ MySpace