Sacred Leather – Ultimate Force
Band: Sacred Leather
Titel: Ultimate Force
Label: Cruz Del Sur Music
VÖ: 23.02.2018
Genre: Heavy Metal
Bewertung: 4.5/5
Written by: Lex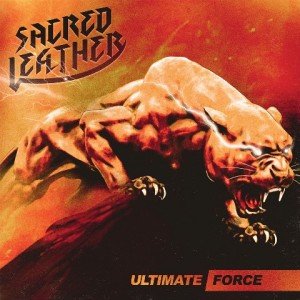 Sacred Leather haben mit ihrem ersten Album "Ultimate Force" sicher eines der gelungensten Werke in Sachen traditionellen Stahls geschmiedet: Die Amerikaner haben es sich zum Ziel gesetzt, die "Essenz" des Heavy Metal einzufangen und den "Massen" wieder nahezubringen. Das sagen viele, und klingen dann doch höchstens nach einer "auch da gewesenen" und zurecht nicht mehr relevanten Band von damals.
Die "Ultimate Force" darf sich dagegen zurecht so nennen, und zwar wegen der saugeil gelungenen Kombination aus Judas Priest in Sachen eingängigen Songwritings zur Ära "Screaming For Vengeance"/Defenders Of The Faith" mit einer gewissen Mercyful Fate/Kind Diamond-Atmosphäre (und letzteres meine ich auch – aber nicht nur – wegen des recht King´schem Gesangs von Dee Wrathchild).
Diesem megastarken Debut scheint auf den ersten Blick zwar dieser gewisse Übersong zu fehlen, aber es fühlt sich einfach zu deutlich nach einem "wachsenden" Album an – Ich MUSS hier zumindest beinahe die Höchstwertung zugestehen. Geil!
Tracklist:
01. Ultimate Force
02. Watcher
03. Power Thrust
04. Dream Searcher
05. Master Is Calling
06. Prowling Sinner
07. The Lost Destructor / Priest Of The Undoer
Besetzung:
Dee Wrathchild (Vocals)
JJ Highway (Guitar)
Magnus LeGrand (Bass)
Carloff Blitz (Guitar)
Jailhouse (Drums)
Internet: