Apostle Of Solitude – From Gold To Ash
Band: Apostle Of Solitude
Titel: From Gold To Ash
Label: Cruz Del Sur Music
VÖ: 23.02.2018
Genre: Doom Metal
Bewertung: 3.5/5
Written by: Lex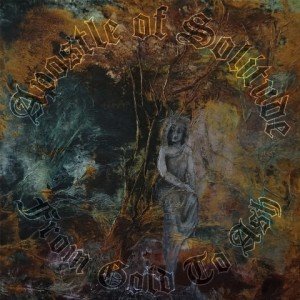 "From Gold To Ash" lebt zu einem Großteil vom starken Gesang des Frontmanns Chuck Brown, dessen ausdrucksstarke Lead Vocals zwischen knarzenden Gitarren, schweren Doomriffs und melancholischen Melodiesprengseln den roten Faden bilden.
Davon lebt das Album ungemein, da der Apostle Of Solitude – Sound ansonsten ziemlich schwer verdaulich und schwer zugänglich ist, und mir ansonsten auch deutlich weniger gut gefallen hätte.
Es bleibt ein sperriges, düsteres Album, das aber von guten Gesangslinien aufgelockert und aufgewertet wird. Wer – wie ich – eher den Epic Doom der Marke Candlemass, Atlantean Kodex und Sorcerer verehrt, Black Sabbath mit Dio besser findet als mit Ozzy, könnte hier also einen guten Einstieg in die dreckigere, knarzige Variante des Doom finden.
Tracklist:
01. Overlord
02. Ruination Be Thy Name
03. Autumn Moon
04. Keeping The Lighthouse
05. My Heart Is Leaving Here
06. Monochrome Discontent
07. Grey Farewell
Besetzung:
Corey Webb (Drums)
Chuck Brown (Guitar,Vocals)
Steve Janiak (Guitar,Vocals)
Mike Naish (Bass)
Internet:
Apostle Of Solitude Website