Band: Sacrificial Slaughter
Titel: Generation Of Terror
Label: Horror Pain Gore Death Productions
VÖ: 12. Mai 2017
Genre: Death/Thrash Metal
Bewertung: 4/5
Written by: Lazer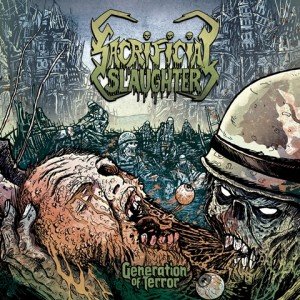 Gut vier Jahre seit dem letzten Output (Full Length) melden sich die Death Thrasher von Sacrificial Slaughter mit einer EP zurück. Seit 2001 grunzen sich die Extreme Fucking Death Thrasher mit leichten Grind-Einflüssen aus Anaheim (USA) nun schon durch die Gegend.
Ihr neuester Streich "Generation Of Terror" ist höchstwahrscheinlich ein kleiner aber feiner Vorgeschmack auf das nächste Full Length Album. Nichts desto Trotz killen sich die Amerikaner hier druch knapp 19 Minuten, als gäbe es keinen Morgen. Die Tracks strotzen nur so von Kraft und Power. Ihre sechs Macheten die sie auf "Generation Of Terror" ins Rennen schicken, metzeln sich nicht nur durchs Unterholz, sondern zerkleinern auch alles andere, das sich auch nur annähernd versucht in den Weg zu stellen. Der Staub aus den Boxen wird hier nicht rausgeblasen, nein, der wird pulverisiert und löst sich in keine wiedererkennbaren Atome auf.
Die Mannen aus Kalifornien geben auf dieser kurzen Reise einfach alles. Die Tracks sind ultraschnell und hauen aufs Gehör, dass es nur so scheppert. Die Double Bass-Attacken sind irre und dreschen sich durchs Gebein. Die wahnsinnigen Riffs sägen sich durch die Knochen und wenn man fatalerweise noch ein Lebenszeichen von sich gibt, tun die Melodien das ihre und zerfressen in ihrer Abartigkeit die letzten zuckenden Gehirnwindungen. Dieser Todeskampf wird von einer Bestie am Mikrofon kommentiert, die durch Mark und Bein crowlt. Die erste halbwegse Verschnaufpause kommt im fünften Song. Der ist ein kleines Bisschen langsamer als die vorhergehenden Killer, dennoch um kein Stück harmloser. Sacrificial Slaughter Mixen alle Härten die es auf der Welt nur so gibt zusammen und servieren einen Kracher von dem einem Angst und Bange wird.
Mein Fazit: "Generation Of Terror" hält, was man sich vom Namen verspricht – ganz nach dem Motto – der Name ist Programm. Das Album ist irrsinnig schnell, unfassbar brutal und einfach nur göttlich.
Tracklist:
01. Systematic Genocide
02. Bodies In The Basement
03. Meticulous Abomination
04. Generation Of Terror
05. Bare Knuckle Beat Down
06. Race War (Carnivore Cover)
Besetzung:
Steve "Crusty" Worley – Vocals
James Sorley – Guitars
Necro Nick – Guitars, Bass, Backing Vocals
Jorge Dominguez – Bass
Fred Tucker – Drums
Internet:
Sacrificial Slaughter @ Reverbantion
Sacrificial Slaughter @ Facebook