Band: Saffire
Titel: From Ashes to Fire
Label: Inner Wound Recordings
VÖ: 2013
Genre: Hard Rock, Progressive Metal
Bewertung: 5/5
Written by: Ronja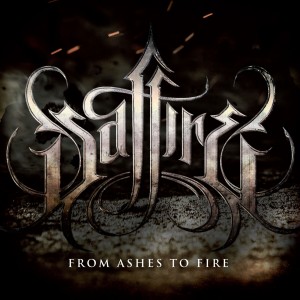 Nach drei Demos brachten "Saffire", aus Gothenburg (Schweden), 2013 endlich ihr Debut Album "From Ashes to Fire" heraus.
From Ashes to Fire. Das würde nicht nur Phoenix aus der Asche locken… es wirkt auch für mich ziemlich belebend, muss ich sagen.
Hier passt meiner Meinung nach das Gesamtpaket. Sound, (Zusammen-) Spiel, der Druck und die einzelnen Effekte. Natürlich trägt die ausgesprochen gut zur Musik harmonierende Stimme auch einen großen Teil zum Hörerlebnis bei.
In der heutigen Zeit ist es zwar schon etwas ungewöhnlich Stücke mit einer Länge von über 6 Minuten zu produzieren – von denen sich einige auf diesem Album befinden – ich bin auch nicht wirklich der Fan von solchen "Überlängen", in vorliegendem Fall jedoch, da die Songs ziemlich abwechslungsreich daherkommen, stört mich das nicht wirklich.
Nach drei Demo Alben ist dies das Debut – Album der fünf "Schwedenjungs". Man merkt aber sofort, dass die Musiker keine Anfänger sind und schon reichlich Band Erfahrung vorweisen können. Meinen Respekt haben sie.
Fazit: Kaufempfehlung!
Tracklist:
01. Magnolia
02. Kingdom of the Blind
03. Freedom Call
04. End of the World
05. What If
06. A Symphony Unheard
07. Paralyzed
08. Modus Vivendi
09. The Betrayer's Fate
10. She Remains a Mystery
11. Say Goodbye
12. The Redemption
13. Stormy Waters
Besetzung:
Tobias Jansson – Vocals
Victor Olsson – Guitars
Anton Roos – Drums
Dino Zuzic – Keyboards
Magnus Carlsson – Bass
Internet:
Saffire Website