Scars Of Armageddon – Dead End
Band: Scars Of Armageddon
Titel: Dead End
Label: Selfreleased
VÖ: 15.12.2017
Genre: Power Metal
Bewertung: 3.5/5
Written by: Lex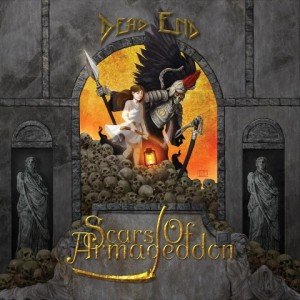 Auf den ersten Blick ist bei Scars Of Armageddon alles perfekt: "Dead End" verspricht 70 Minuten klassischen US Power Metals ohne Retro-Spinnweben, teilweise mit zusätzlichem Speed/Thrash Metal Druck, dazu die kristallklaren makellosen Vocals von David Kraus.
Über die Spielzeit schwindet die Begeisterung dann aber doch ein wenig, und ich gewinne den Eindruck, dass hier was fehlt. Die Songs erscheinen zwar überaus versiert und mit Liebe zum Detail aufgebaut zu sein, aber eben doch mit fertigen und bekannten Bausteinen, sodass "Dead End" am Ende nur knapp über dem Veröffentlichungsdurchschnitt herausragt.
"Lockdown" oder "Turns To Gray" mögen als Anreiz zum Bilden eines eigenen Eindrucks dienen, aber mir fehlt es bei der Band aus Chicago noch ein wenig an Substanz, um wirkliche Begeisterungsstürme auszulösen.
Tracklist:
01. Prelude
02. Dead End
03. Lockdown
04. Wasteland
05. Elf Revolution
06. Turns To Gray
07. A Good Day To Die
08. Endless Horizon
09. What Lurks Beneath
10. Scars Of Armageddon
11. Fatal Impact
Besetzung:
David Kraus (Vocals, Guitar)
George Lohan (Guitar, Vocals)
Paul Postelnik (Bass)
Jason Krieger (Drums)
Internet:
Scars Of Armageddon @ Facebook
Scars Of Armageddon @ Reverbnation