Band: Shrapnel Storm
Titel: Mother War
Label: Witches Brew
VÖ: 29.05.2015
Genre: Death Metal
Bewertung: 3,5/5
Written by: Daniel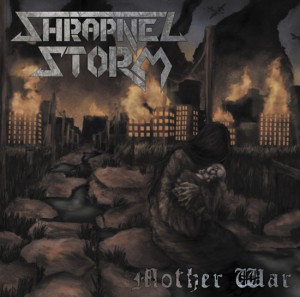 Sage und schreibe vier Demos haben die seit 9 Jahren aktiven Finnen veröffentlicht, sind gereift und legen mit Mother War ein amtliches Old School Brett vor, das man Genre Fans, so viel sei schon einmal verraten, als Blindkauf empfehlen kann.
Und das, obwohl man nicht nur beim Intro Casus Belli des öfteren an bekanntere Acts denken muss. SHRAPNEL STORM kümmern sich einen Dreck um Eigenständigkeit und huldigen mit großem Respekt ihren Vorbilder.
Auch abwechslungsreich hat man das Debüt gehalten. Sind beispielsweise die Sirenen besagten Intros verklungen, bricht nicht wie anno 1997 der Krieg herein, auch wenn man an das sonnige Florida zwangsweise denken muss.
Six Feet Under und Obituary sind hier ohnehin als Haupteinfluss zu werten, wie die folgenden The Carpet Bombing, Warfiend, Mother War, To Each Battle und Radars Down beweisen. Mit dabei schwirrt immer ein fetter Groove, der die Frage aufwirft ob Bolt Thrower vor allem bei Detracked und Calling The Void die vorherrschende Walze besser hinbekommen hätten.
Nein, Mother War ist nicht originell, kein bisschen eigenständig und bestimmt kein Klassiker. Dafür aber eine schöne Reise zurück in die Zeit, als Six Feet Under noch Ideen hatten, Obituary Götter waren und Bolt Thrower noch Alben (was in diesem Fall mit Klassiker/Meisterwerk gleichzusetzen ist) veröffentlichten. Dauerrotation ist also garantiert!
Trackliste:
01. Casus Belli
02. The Carpet Bombing
03. Detracked
04. Combat High
05. Calling Of The Void
06. Warfiend
07. Mother War
08. To Each Battle
09. Radars Down
10. Rising Storm
Besetzung:
Ville Yrjölä – vocals
Aki Laaksola – guitar, vocals
Tothori Mäkitalo – guitar
Petri Saarenma – bass
Mikko Orava – drums
Shrapnel Storm im Internet:
Homepage