Band: Shredhead
Titel: Death Is Rightteous
Label: Mighty Music
VÖ: 2015
Genre: Neo Thrash Metal
Bewertung: 4/5
Written by: Daniel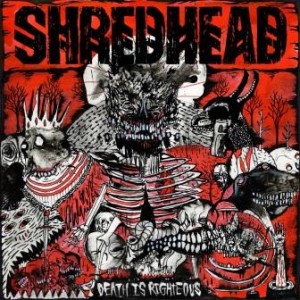 Während ihre Landsleute von Hammercult im eher klassischem Thrash beheimatet sind, orientieren sich Shredhead an den Neunzigern.
Die Band hat in Israel schon einen gewissen Status und durfte 2012 ihre Heimat beim Wacken Metal Battle repräsentieren, letztes Jahr war man sogar als Support für Biohazard unterwegs.
Man schraubt also energisch daran, auch international wahr genommen zu werden, was durch den Umstand, dass hier niemand geringerer als True Madsen hinter den Reglern saß, verdeutlicht wird. Und der hat hier erstklassige Arbeit abgeliefert, denn trotz der modernen Produktion ist der Sound organisch geblieben und knallt. Da fehlt also nur noch ebenfalls erstklassiges Songmaterial und die Chancen international auf sich aufmerksam zu machen, stehen mittelfristig ganz gut für die Band.
Death Is Righteous liegt ein loses Konezept zu Grunde, das sich mit dem Umstand befasst, dass jeden von uns irgendwann einmal der Tod ereilt. Verpackt hat man diese Thematik – musikalisch beeinflusst von Bands wie Pantera, alten Machine Head, aber auch Slipknot und Lamb Of God – in elf groovende, gewaltig arschtretende Tracks.
Während Devils Race, LPBZ, Walk With The Dead,  und I am einen wehmütig an die ersten zwei Machine Head Alben denken lassen, stehen The Lie, Last Words Are Lost, Death Is Righteous und Witness Hell den Meisterwerken von Pantera in kaum etwas nach!
Modern und trotzdem gut? Zu dem Schluss komme ich persönlich eher selten, aber auf Death Is Righteous erweisen sich gerade die leichten Core Einflüsse bei Hallucination und Can`t Be Alive als gewinnbringend. Zudem sind LPBZ, The Lie, der Titeltrack, Can`t Be Alive und Witness Hell erstklassige Modern Metal Hits mit Hooklines wie ich sie mir auf der aktuellen Machine Head gewünscht hätte.
Wer auf die moderne Thrash Metal Variante steht, der kann garnicht anders als Shredhead zu supporten, denn Death Is Righteous ist ein starkes Album ohne Durchhänger, gespickt mit Hits und vor allem, was das Wichtigste ist, in den etwas über 40 Minuten ohne Kompromisse voll auf die Fresse!
Trackliste:
01 Devil's Race
02 LPBZ
03 The Lie
04 Last Words Are Lost
05 Death Is Righteous
06 Hallucinations
07 Walk With The Dead
08 Can't Be Left Alive
09 Witness Hell
10 I Hate Myself
11 I Am

Besetzung:
Aharon Ragoza – vocals
Yotam Nagor – guitars
Lee Lavy – gass
Roee Kahana – drums
Shredhead im Internet: