Band: Gnosis
Titel: The Third Eye Gate
Label: Nuclear War Now Productions
VÖ: 2015
Genre: Black/Death Metal
Bewertung: 3,5/5
Written by: Daniel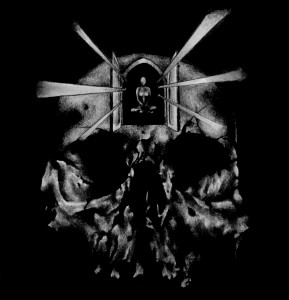 Florida und Death Metal sind eine feine Kombi, das leerte uns die Geschichte. Doch auch wenn Gnosis aus dem sonnigen Eckchen kommen, ganz so offensichtlich lässt sich das nicht erahnen. Hier klingt nix nach Death oder Obituary, eher geht man so räudig wie Mayhem und VARATHRON zu Werke, einiges erinnert an Rotting Christ.  Zudem ist man Death Metal – isch auch eher auf Norden statt auf Heimat geeicht, aber vor allem scheint man von Mystifier beeinflusst zu sein. BEEINFLUSST, also nicht abkupfernd (!), sorgen eine düstere Atmosphäre und ein wunderbare Vintage Produktion (bei der vor allem der Bass sehr präsent ist) für Authenzität.
Auch wenn man nach dem Opener Primaeval Light erstmal bis Chariot Of The Sun-Moon braucht, um aus die Pötte zu kommen und nicht nur mit Feeling sondern auch mit starken Songs zu überzeugen, die zweite Albumhälfte ist ein Traum für Old Schooler.
Dem besten Songs des Albums – dem abwechslungsreichen Cult Of The Great Serpent – folgt mit Lotan's Dwelling ein pechschwarzer, sehr intensiver Höllenritt. Das Apzu Tiamatu seinem Vorgänger anfangs zu sehr ähnelt wird durch den schleppenden Fortlauf des Tracks und dem tiefen Raunen von Fronter J. S. wettgemacht. Auch der Trademarksong ist sehr gelungen, gerade hier funktioniert das Aufbauen einer düsteren, abgrundtief dunklen Stimmung hervorragend.
Für ein Debüt geht The Third Eye Gate vollkommen in Ordnung, wer sich zu den Puristen in Sachen Old School Black/Death Metal zählt, der wird Gnosis sogar richtig abfeiern.
Die Atmosphäre finster, und das ist gerade beim Black Metal wichtiger als geniales Songwriting oder instrumentale Meisterleistungen. Aber sie ist halt nicht alles, es fehlt The Third Eye Gate einfach noch die Konstanz im Songwriting.
Trackliste:
01 Intro
02 Primaeval Light
03 The Plague Of Azotus
04 Temple Of The Sea
05 Chariot Of The Sun-Moon
06 Cult Of The Great Serpent
07 Lotan's Dwelling
08 Apzu Tiamatu
09 Gnosis
10 The Third-Eye Gate
Besetzung:
J.S. – vocals
A.F. – guitars
C.R.C. – bass, synth
R.P. – bass
C.V. – drums
Gnosis im Internet: