Band: Sinister
Titel: Dark Memorials
Label: Massacre Records
VÖ: 26.06. 2015
Genre: Death Metal
Bewertung: ohne Bewertung
Written by: Daniel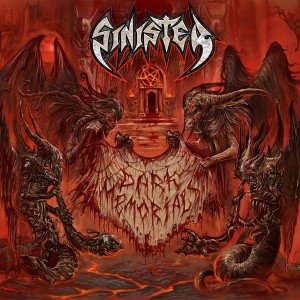 Uppala, was finde ich denn da beim aufräumen?
Sorry Jungs und mit reichlich Verspätung noch ein dickes Herzlichen Glückwunsch sowie ein fettes Dankeschön!
Danke für 25 Jahre kompromisslosen, ehrlichen und überragenden Death Metal.
Im Gegensatz zu den meisten Bands gab es keine lauwarme Best Of oder einen Jubiläums – Schnellschuss (das letzte Album war bei Veröffentlichung schließlich erst 12 Monate alt) , sondern ein Coveralbum, welches den Vorbildern und Lieblingstracks der Bandmitglieder huldigt.
Eine interessante Idee, die aber auch angenessen umgesetzt werden muss.
Und das haben die Holländer mit einer gelungenen Auswahl von Sepultura über Kreator bis Autopsy richtig gut hinbekommen.
Als zwei kleine Mankos erweisen sich hier allerdings das etwas missglückte Merauder Cover Master Killer sowie Ridden With Disease von Autopsy.
Für solche Tracks ist die Stilistik von SINSTER wohl zu hölzern. Andersherum funktionieren aber zum Beispiel Beneath The Remains, Necrophiliac, Unleashed Upon Mankind und Under The Guillotine wunderbar.
Obendrein gibt es noch die Neueinspielungen von Spiritual Immolation und Compulsory Resignation vom Debüt, für die man Ex-Gitarrist Ron van de Polder in das Soundlodge Studio lud. Coole Idee, zumal DARK MEMORIALS auch so zu den wenigen starken Coveralben gehört und zumindest für Fans die genauso achtsam sind wie der Verfasser dieser Zeilen, ein schönes Geschenk ist. Der Rest hat es sicher schon eingetütet.
Trackliste:
01. The Malicious (Intro)
02. Beneath The Remains (Sepultura Cover)
03. Exhume To Consume (Carcass Cover)
04. Unleashed Upon Mankind (Bolt Thrower Cover)
05. Master Killer (Merauder Cover)
06. Beyond The Unholy Grave (Death Cover)
07. Under The Guillotine (Kreator Cover)
08. Ridden With Disease (Autopsy Cover)
09. Necrophiliac (Slayer Cover) – Slayer
10. Radiation Sickness (Repulsion Cover)
11. Blasphemies Of The Flesh (Carnage Cover)
12. Spiritual Immolation (Re-Recorded Bonustrack)
13. Compulsory Resignation (Re-Recorded Bonustrack)
Besetzung:
Adrie Kloosterwaard – vocals
Dennis Hartog – guitars
Bas Brussaard – guitars
Mathijs Brussaard – bass
Toep Duin – drums
Sinister im Internet:
Homepage