Band: SnakeyeS
Titel: Ultimate Sin
Label: Selfreleased
VÖ: 18.03. 2015
Genre: Heavy Metal
Bewertung: 5/5
Written by: Daniel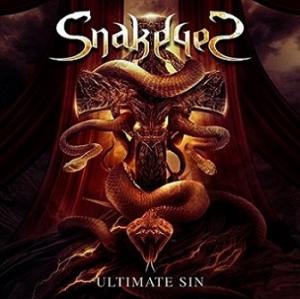 Vor zwei Jahren gründeten sich die Spanier SnakeyeS und legen nun mit Ultimate Sin ein Debüt vor, das JEDEN, der kniend vor seinem Altar regelmäßig Alben wie British Steel, Point Of Entry, Painkiller, Angel Of Retribution, Nuclear Fire, Black Sun, Devil`s Ground, Seven Seals, Bullets To The Spare und Decibel Disease anbetet, beinahe ehrfürchtig mehr Platz schaffen und die Gebetsstunden um gute 49 Minuten erweitern lässt.
Recherchiert man ein wenig wird klar, dass das Quartett nicht mehr ganz unbefleckt ist. Das Gro der Mitglieder spielt auch bei den Metalheads von Sphinx.
Im Gegensatz zu Sphinx bieten SnakeyeS meistens knallharte Riffs im Painkiller – Sil, die mit melodischen, sofort einprägenden Refrains in eine moderne Produktion gepackt wurden und nicht nur klangtechnisch mit dem Trugschluss aufräumen, das ein zeitgemäßer Sound nicht zeitlos klingen kann. Denn dieses Album ist es, und zwar jede gottverdammte Note!
Da ist es einem auch Wurst, das Demon in Your Mind vollends von Primal Fear beeinflusst ist, Shadow Warrior das zweite Deja Vu – Album genauso resümiert wie Rise Of The Triad und das Judas Priest hier zwangsweise überall present sind.
Den Spaniern gelingt nämlich das Kunststück, ihren Kompositionen trotzdem einen eigenen Stempel aufzudrücken!
Zudem haben SnakeyeS mit Cosmin Aioniţă einen Sänger, der sowohl einem Halford in Bestform als auch einem Werner Kerscher locker das Wasser reichen kann (Rob Halford auf "Aggressiva" umschreibt seine Stimme wohl am besten.) und bieten mit den herrausragenden Gitarrenduellen von José Pineda  und  Justi Bala eine Klasse, die zumindest teilweise Tipton/Downing – Niveau erreicht. Dazu gesellen sich die wichtigsten Faktoren:
der Hunger einer jungen, aufstrebenden Band und ein Album, das ausnahmlos Killer beinhaltet.
Hier geht der Painkiller in den Devil`s Ground und sorgt für Decibel Disease! Diese Truppe verkörpert hier zu 100 % pure Heavy Fucking Metal und ist der heißeste Anwärter für die Thronablösung.
Anspieltipps:  Demon In Your Mind, Shadow Warrior und Ultimate Sin
Trackliste:
01. Demon in Your Mind
02. Denied
03. Shadow Warriors
04. Black and White
05. Blood of the Dammed
06. Rise of the Triad
07. Time of Dismay
08. Ultimate Sin
09. Down with the Devil
10. Snake Pit
11. The Cross is a Lie
Besetzung:
Cosmin Aionita – vocals
Jose Pineda – bass, guitar
Justi Bala – guitar
Carlos Delgado – drums
SnakeyeS im Internet:
Homepage