Band: Nightshock
Titel: Nightshock
Label: Iron Shield Records
VÖ: 24.04. 2015
Genre: Old School Black/Thrash Metal
Bewertung: 3,5/5
Written by: Daniel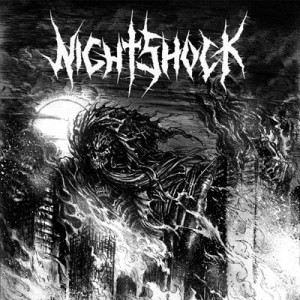 Da rollt eine Welle an! Immer mehr Bands suhlen sich im Sound von Venom und Bulldozer, neben Bulldozing Bastard darf man Fans dieser Spielart auch die Italiener Nightshock wärmstens um die Ohren hauen.
Mit ordentlich Tank und Motörhead – Avancen rollt man mit dem Titeltrack direkt in die Hölle und befindet sich, – "1, 2, 3, 4" – mit Black Demise in den Abgründen des NWOBH – beeinflusstem Old School Black Metals.
Richtig gut zum abschädeln sind auch Faith And Dishonor und Nothing Will Remain. Ace Of Spades anywhere?
Runter von Gaspedal bietet Cemeterial City erschreckend einfallsloses, während mit dem schleppend, morbide beginnenden Roots Of The End dem Sodom Debüt gehuldigt wird. Funeral Chain ist hingegen überraschend dynamisch und zeigt auf, zu was die Kapelle fähig sein kann.
Entweder man liebt, oder man hasst folgende Fakten:
Es rumpelt und scheppert durch die Boxen, keine Innovation, das einzige Break gibt es im Nacken, ca. 200 mal brüllt Lorenzo Bellia "Uuah" in`s Mikro, dazu ein farbenfrohes Cover.
Aber mal ehrlich, was will der Gourmet unverfälschten Heavy Metals mehr? Was die Band kompositorisch verkackt, macht sie mit Spirit lockert wieder wett. Schwer sympathisch!
Trackliste:
01. Into The Night (Off To War)
02. Nightshock
03. Black Demise
04. Faith And Dishonor
05. Nothing Will Remain
06. Cemeterial City
07. Roots Of The End
08. Funeral Chain
09. Out Of The Shock (Back To TheFront)
Besetzung:
Lorenzo Bellia – guitar, vocals
Giulia Bellia: – bass
Simone Perchiazzi – drums
Nightshock im Internet: