Band: Soulborn
Titel: The Suffocating Darkness
Label: Century Media
VÖ: 2014
Genre: Black Metal
Bewertung: 3.5/5
Written by: Lex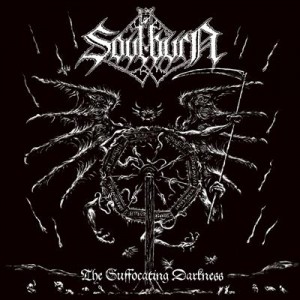 SOULBURN ist ein Projekt, das aus der Band ASPHYX heraus entstand und zum ersten und bis dato einzigen Mal im Jahre 1998 eine Scheibe hervorgebracht hat. Nur 16 Jahre später hat man wieder Bock was mit SOULBURN zu machen, und herausgekommen ist "The Suffocating Darkness".
Die "Apotheosis Infernali" leitet das Album ein: Eine Stimme ächzt qualvoll, es folgt ein bißchen chorale Luzifer-Lobpreisung. Unsere verlorene Seele in der Hölle trifft anschließend einen Bekannten wieder und fragt diesen: "Jesus Christ! What are YOU doing here?!"
Und dann kommt er, der gute alte Black Metal in seiner klassischen Form. Man mische "A Blaze In The Northern Sky" mit anständigen und dennoch blackigen Riffs, lässt Twan "Legion oft he Damned" van Gel in althergebrachter Weise den krächzenden Raben der Blasphemie mimen und mache das alles wirklich richtig gut – schon hat man das zweite SOULBORN-Album.
Für mich eines der besseren Alben im Geiste der alten Werke von Darkthrone, allerdings mit mächtigerem Riffing und besserer Produktion ausgestattet. Ob ein ereignisloses Outro wie "Eden´s Last Sigh" unbedingt sein muss… geschenkt! Wenn ich da an gewisse Burzum-Alben denke, die zur Gänze sinnlose Outros darstellen, gehört wohl auch das zu einer gekonnten Hommage. Krächzender Pandabären-Satanismus wie in den 90ern, inklusive passender Atmosphäre.
Tracklist:
01. Apotheosis Infernali (Intro)
02. Under The Rise Of A Red Moon
03. The Mirror Void
04. In Suffocating Darkness
05. Absinthesis
06. Hymn Of The Forsaken I
07. Black Aura
08. I Do Not Bleed From Your Crown Of Thorns
09. Wielding Death
10. Claws Of Tribulation
11. Eden's Last Sigh (Outro)
Besetzung:
Twan van Geel (vocals/bass)
Remco Kreft (guitar)
Eric Daniels (guitar)
Bob Bagchus (drums)
Internet: