Band: Stargazery
Titel: Stars Aligned
Label: Pure Legend Records
VÖ: 2015
Genre: Melodic Heavy Metal
Bewertung: 5/5
Written by: Lex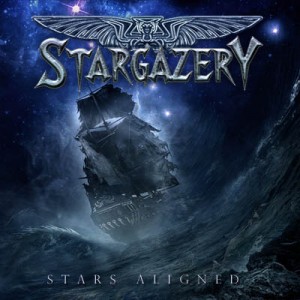 Ein Name wie STARGAZERY mag nicht grad eine Sternstunde in der Geschichte der Bandnamen sein. Ungefickte Finsterheinis und zynische Nerds werden sich von nicht minder schlagerlastig betitelten Songs wie "Angel Of The Dawn" oder "Academy Of Love" reflexartig in ihrer eingebildeten Intelligenz beleidigt fühlen. Und naja, schon möglich dass sich die Finnen hier oder da bedient haben. Wenn´s so ist, hab ich´s nicht bemerkt.
Die Songs, angefangen vom megageilen Opener "Voodoo" bis hin zum leicht vom Musical angehauchten "Dark Lady" gehen aber dermaßen unmittelbar ab und direkt ins Ohr, dass es einfach keine Rolle spielen sollte. Auf "Stars Aligned" stehen die Sterne was mich angeht wirklich genau richtig, abgesehen vielleicht vom vergleichsweise schwächeren "Hiding" und dem Bonus Track. Melodischer Heavy Metal mit 80er-Hard Rock-Spirit, bei dem Keys, bratende Gitarren und makelloser Gesang sich perfekt ergänzen um ein mega-eingängiges Gute-Laune-Highlight nach dem anderen aus dem Hut zu zaubern. Da stören zugegebenermaßen käsige Lyrics wie "You´re under my charm but I do you no harm" nicht ein bisschen sondern schrauben den Spaßfaktor sogar noch weiter nach oben.
Rammelt den Ernst des Lebens von hinten mit der Key-tar nieder, bis der "Angel Of The Dawn" kommt. Absolut überzeugend!
Anspiel-Pflicht: Voodoo.
Tracklist:
01. Voodoo
02. Angel Of The Dawn
03. Missed The Train To Paradise
04. Invisible
05. Absolution
06. Academy Of Love
07. Painted Into A Corner
08. Dim The Halo
09. Bring Me The Night
10. Hiding
11. Warior´s Inn
12. Dark Lady
13. Tumma Nainen (Bonus Track)
Besetzung:
Jari Tiura (Vocals)
Jukka Jokikokko (Bass)
Pete Ahonen (Guitars)
Marco Sneck (Keyboards)
Jussi Ontero (Drums)
Internet:
Stargazery Website
Stargazer @ Reverbnation
Stargazery @ MySpace