Band: Supersuckers
Titel: Holdin' The Bag
Label: SPV/Steamhammer
VÖ: 29.01.16
Genre: Rock
Bewertung: 4/5
Written by: Robert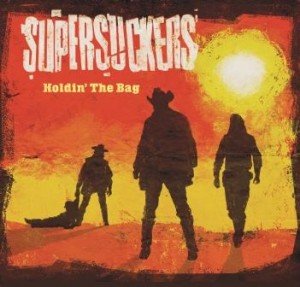 Die aus Arizona stammenden Rocker Supersuckers hatten ja Kollegin Ronja mit ihrem Werk vollends überzeugen können. Nun liegt also der Nachfolger in Form von "Holdin' The Bag" vor mir. Kann dieser Rundling genauso überzeugen? Was die Musik an sich betrifft, bewegen sich die Jungs ja auf einem sehr schmalen Grat. Zwischen Country und Western Sounds haben sie ihren Rocksound eingeflochten. Nicht unbedingt das Neuste auf dem Markt, aber und das steht für die Formation, die Umsetzung ist sehr frisch und geht gut ins Gehör.
Beim Anlaufen des Albums kommen mir viele Songs in den Sinn in der Zeit als ich auf einer Amibasis gezwungen war Radio Eagle AFN zu hören. Dem Country Sound hold würde ich die Prallelen gerne zu Brantley Gilbert attestieren. Der Junge Kollege ist aber deutlich moderner angehaucht mit seinem Sound. Ganz im Gegensatz dieser Vertreter, sie fahren astrein auf der traditionellen Schiene. Beim Sound kommen einem viele Fantasien in den Sinn. Weite Steppen, riesige Trucks die ihre Schneisen durch die weiten der Staaten ziehen. Mag etwas nach Jockel klingen, gut der Country an sich hat ja bei vielen eine schlechten Stand. Von Einfallslosigkeit und einem weniger starken Intellekt behaftet werden Musiker wie auch Freunde dieser Musik bezeichnet.
Gut das kann jetzt jeder mit sich selbst vereinbaren. Fakt ist, dass die Umsetzung oftmals vom Leben bzw. Situationen spricht. Wird in anderen Genres auch gemacht, aber nur hier bekommt man dieses bestätigende Gefühl. Dies vermögen auch Supersuckers mit ihrem neuesten Werk, wenngleich ich hier mir oftmals etwas mehr Schwung im Sound wünschen würde. Bedeutet, die eher im lockeren Midtempo verankerten Tracks sind gut, aber so richtig der Brenner, oder sagen wir das fetzige Stück hier und da wäre durchaus wünschenswert. Somit muss sich der Country Rock Liebhaber eher mit gemütlichen, teils etwas trauriger veranschlagten Musikstücken begnügen. Das haben aber die Jungs durchaus drauf und versprühen einen guten Spirit, welcher viele alte Vorreiter durchaus beeindrucken würde.
Dass Stimmungsparameter passt und das ist das Wichtigste. Man muss eindeutig einen Faible für diesen Sound haben, ansonsten macht das Album dieser Truppe keinen Sinn. Für jene die dem doch hold sind, sollten sich auf einen sehr guten Rundling vorbereiten, welcher aber eben sehr traditionell veranschlagt wurde.
Fazit: Guter Country Rock, welcher hier und da deutlich preschender klingen könnte. Somit ist das Ganze einfach eine Mehrheitlich gemütliche Runde und auch das kann Spaß machen.
Tracklist:
01. Holdin' the bag
02. This Life… With You (feat. Hayes Carll)
03. High and Outside
04. Man On A Mission
05. I Can't Cry (feat. Lydia Loveless)
06. Let's Bounce
07. I Do What I Can
08. Jibber-Jabber
09. That's How It Gets Done
10. Shimmy and Shake
11. All My Rowdy Friends
12. Georgia On A Fast Train (EU Bonus track)
13. Loaded (Vinyl Only Bonus Track)
Besetzung:
Eddie Spaghetti (voc & bass)
"Mountain" Marty Chandler (guit)
Captain "All Nighter" Von Streicher (drums)
Internet:
Supersuckers Website