Band: The Agonist
Titel: Eye of Providence
Label: Century Media Records
VÖ: 23.02.2015
Genre: Melodic Death Metal
Bewertung: 4/5
Written by: Mayhemer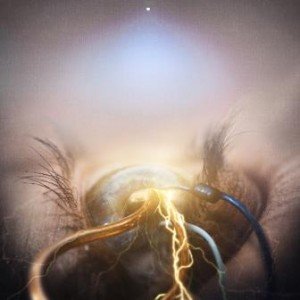 2014  war ein aufregendes Jahr für The Agonist. Nach dem Wechsel von Alissa White-Gluz, DEM Aushängeschild von The Agonist zu Arch Enemy, wussten viele Anhänger und Medien nicht, ob die Band einen stimmlichen wie (hauptsächlich) optischen Ersatz für Alissa finden kann bzw. ob die Band so überhaupt noch weiter machen wird.
Nach langem Suchen wurde ein Ersatz  in der noch unbekannten Vicky Psarackis gefunden und der erste Longplayer nach der Ära White-Gluz steht nun in den Startlöchern. Die Frage, die sich wahrscheinlich schon die meisten The Agonist Fans stellen sei hier und jetzt beantwortet: YES, She can! Vicky Psarakis kann ihre Vorgängerin gesanglich ersetzen und passt hervorragend zu The Agonist. Natürlich gibt es Unterschiede, was auch gut ist, aber alles in allem, hat die neue Fronterin eine absolute Glanzleistung vollbracht. Eine Nachfolgerin zu sein, ist ja nicht unbedingt der einfachste Job (siehe Nightwish!)
Mit  "Eye of Providende" ist die Band neue songwriterische Wege gegangen. Sie haben den Modern Metal sowie die "Core"- Einlagen (fast) völlig aus den Songs gestrichen und sich vermehrt auf richtig geilen Melodic Death Metal mit eingängigen Refrains und Melodien disponiert. Sehr frisch und wirklich hervorragend umgesetzt.  Ich höre auch ganze leichte Ansätze von Gothic Metal heraus. Somit ist es einfach eine richtig geile Mischung geworden, die die bestehenden Fans der Band begeistern wird. Nicht nur das: "Eye of Providence" hat das Potenzial, neue Fans dazu zu gewinnen. Daumen hoch! Rock on
Tracklist:
01. Gates Of Horn And Ivory
02. My Witness Your Victim
03. Danse Macabre
04. I Endeavor
05. Faceless Messenger
06. Perpetual Notion
07. A Necessary Evil
08. Architects Hallucinate
09. Disconnect Me
10. The Perfect Embodiment
11. A Gentle Disease
12. Follow The Crossed Line
13. As Above So Below
Besetzung:
Vicky Psarakis – Vocals
Danny Marino – Guitars
Pascal "Paco"Jobin – Guitars
Chris Kells – Bass
Simon McKay – Drums
Internet:
The Agonist @ MySpace