THE DARK RED SEED – STANDS WITH DEATH
Band: THE DARK RED SEED
Titel: STANDS WITH DEATH (EP)
Label: PROPHECY Productions 
VÖ: 15.09.2017
Genre: Dark Folk
Bewertung: 4/5
Written by: Maze P.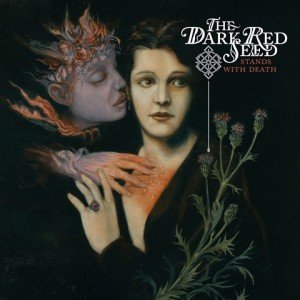 The Dark Red Seed ist eine neue Band bzw. ein neues "Duo" aus den USA rund um den sehr bekannten Dark Folk Musiker Tosten Larson, der sich u.a. einen Namen als Musiker bei King Dude gemacht hat und sich jetzt mit der neuen Kapelle einfach ein wenig selbst verwirklicht. Wie eine Solo Scheibe bzw. wie ein Solo Projekt würde ich mal meinen. Deren Debut – EP "Stands with Death" halte ich in Händen, welche als Vorbote ihres für Sommer 2018 angesetzten Full-Lenght Album "Becomes Awake" dienen soll. Der volle Rundling sollte dann als Sequel oder als Antwort von "Stands With Death" angesehen werden. Nun begebe ich mich aber auf eine 3 Lieder lange Reise, die den Tod von Amerika, den Tod unserer Kultur und den Tod der Realität durch die Technologie und die Globalisierung behandelt. Was gibt es Besseres bei dem Sauwetter?
"Stands With Death" ist eine ordentliche Breitseite einer Mischung aus Cash, Me And That Man, feinstem Dark Folk und einer wunderbaren Stimme, die den Tod ertragen lässt. Hypnotischer ArtRock würde ich auch noch sagen. Und das alles so derart langsam vorgetragen, dass dir manchmal der Kopf schwer wird. Aber genau das soll ja die Musik rüberbringen. Eine extreme Schwere. "Spass" darf hier eh nix machen.
Produktion ist gewaltig gelungen, die Umsetzung des Lyrical Themes ebenso. Ob der Hörer nun will oder nicht: Hier hörst du zu! Nebenbei läuft nicht! Wunder-schaurig-schön! Für Genrefans ein absolutes Muss – Für Genre-Entdecker ein sehr gutes Einsteigerwerk, denn 3 Songs dürften am Anfang genügen! Daumen hoch! Rock on!
Tracklist:
01. The Antagonist
02. The Tragedy of Alesund
03. The Master And The Slave
Besetzung:
Tosten Larson
Shawn Flemming
Internet: