Band: The Dead
Titel: Deathsteps To Oblivion
Label: Diabolical Conquest
VÖ: 15. November 2014
Genre: Doom/Death Metal
Bewertung: 5/5
Written by: Lazer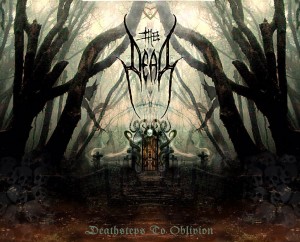 Seit 2005 besteht die australische Death Metal-Band The Dead. Im November 2014 kommt
ihr neues Werk zu Tage.
Die EP hört auf den klingenden Namen "Deathsteps To Oblivion" und wartet mit fünf Songs auf. Auf einer Gesamtspielzeit von 32 Minuten zeigt das Trio, dass sie ihrem Namen alle Ehre machen. Sehr düster und schroff präsentiert sich die Scheibe von Anfang bis zum Ende. Obwohl es leider nur fünf Tracks zu hören gibt, scheint es teilweise doch als eher schwerere Kost zu sein als vorher angenommen.
Nicht ganz alltäglicher oder gar durchschnittlicher Death Metal wird hier zum Besten gegeben. Die Jungs wissen, mit ihren Instrumenten umzugehen und den Death Metal / Groove Metal / Doom Metal regelrecht zu zelebrieren.
Ganz düstere Melodien und Rhythmen werden auf Deathsteps To Oblivion angeschlagen. Leider ist dieses Schauspiel schon viel zu früh zu ende. Den krönenden Abschluss liefert der Titelsong. Dieser ist an Düsterheit und psychisch-geistiger Abnormität nicht zu überbieten. Ein richtig geiler und gelungener Höhepunkt.
Mein Fazit: Deathsteps To Oblivion ist ein grenzgeniales Werk. Düster und schroff, brutal und hart. Man darf auf mehr Material von The Dead hoffen.
Tracklist:
01. Maze Of Fire
02. Disturbing The Dead
03. The God Beyond
04. Terminus
05. Deathsteps To Oblivion
Besetzung:
Mike Yee – Vocals
Adam keleher – Guitar, Bass
Chris Morse – Drums
Internet:
The Dead @ Youtube