Band: The Doomsday Kingdom
Titel: The Doomsday Kingdom
Label: Nuclear Blast Records
VÖ: 07.04.17
Genre: Doom Metal/Heavy Metal/NWOBHM
Bewertung: 3,5/5
Written by: Peter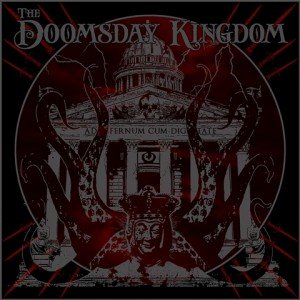 Das selbst benannte Debüt-Abum The Doomsday Kingom Leif Edlings derzeit aktuellsten Projekts lässt mich etwas ratlos zurück. Mit Candlemass ist der Mann eigentlich der Doom-Papst nach Black Sabbath schlechthin. Aber irgendiwie zündet das Album nicht ganz so, wie ich das von den letzten Outputs seiner Haupttruppe (welche das nun auch unter all seinen Projekten wirklich ist) sowie ebenso Avatarium gewohnt bin. Gerade Candlemass hatten wirklich mit jeder Neuerscheinung starkes Material geliefert.
Nun, was ist da passiert? Auch auf The Doomsday Kingdom macht Meister Leif die Mucke, die wir von ihm gewohnt sind: Traditions-Doom mit Anleihen beim Heavy Metal der 1980er sowie spezfisch der NWOBHM. Soweit, so gut. Nein, eigentlich soweit, so schlecht. Auf dem Rundeisen fehlen die RIffs, die sich gnadenlos ins Ohr fressen. Auch die flotteren Nummern sind keine Ohrwürmer. Damit bleibt ein kompetent umgesetztes, aber im Kontext Edlings persönlicher Diskographie eher nebensächliches Album übrig. Kann sein, dass der Mann einfach zuviel auf den Markt haut und jede Songidee verwursten muss?!?
Tracklist:
01. Silent Kingdom
02. The Never Machine
03. A Spoonful Of Darkness
04. See You Tomorrow
05. The Sceptre
06. Hand Of Hell
07. The Silence
08. The God Particle
Besetzung:
Leif Edling – Bass
Niklas Stålvind – Gesang
Marcus Jidell – Gitarre
Andreas (Habo) Johansson – Schlagzeug
The Doomsday Kingdom im Internet:
The Doomsday Kingdom Website