Band: The Furor
Titel: Impending Revalation
Label: Transcending Obscurity Records
VÖ: 05. März 2017
Genre: Black/Death/Thrash Metal
Bewertung: 3,5/5
Written by: Daniel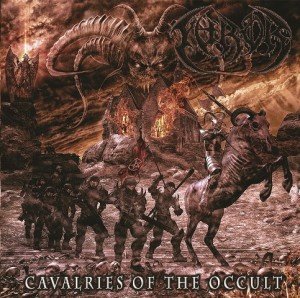 THE FUROR gehören nicht gerade zu meinen Lieblingen, aber einen großen Respekt vor Puristen wie Dizazter habe ich. Wer kompromißlos sein Ding durchzieht, der hat diesen auch verdient. Und wenn dann die neue Scheibe auch noch mindestens doppelt so gut ist wie der unsägliche Vorgänger Impending Revalation, freut man sich, dem True Metal Brother eine amtliche Scheibe attestieren zu dürfen.
CALVARIES OF THE OCCULT knallt vom Klang her sehr fett rein, kennt kompositorisch keine Kompromisse und geht straff voran. Dabei verliert man sich nicht, wie zumeist üblich, im stumpfen Gehölz, sondern garniert den Schwarzwald mit distopischen Melodien. Totaliterror, Rampage Upon The Rational und Second Coming Slauthered sind sind dieser Hinsicht die Höhepunkte.
Auch die gnadenlosen The 30 Year War, Death Manifest sowie der Titeltrack sind allererste Sahne für Freunde rabiater Klänge. Düstere Stücke wie Fomes Peccati, das beinahe schon episch beginnende The Flames Of Fate als auch Thrasher der Sorte Storm Of Swords sind ebenfalls auf hohem Niveau und sorgen für Kurzweile.
Das fünfte Album der/des Australier ist definitiv eine positive Überraschung, die nur knapp die Vierpunktemarke verfehlt und die mit jedem Durchlauf mehr Sßaß macht. Daher gibt es eine ausnahmslose Empfehlung an alle Black Metaller. Chapeau.
Trackliste:
01. Death Manifest
02. Cavalries of the Occult
03. Second Coming Slaughtered
04. The Flames of Fate
05. Storm of Swords
06. The 30 Year War
07. Rampage upon the Rational
08. Fomes Peccati
09. Totaliterror
Besetzung:
DIZAZTER – Schlagzeug, Gesang
HELLHOUND – Gitarren
THE GRAND IMPALER – Bass
The Furor im Internet: