Band: The Last Warning
Titel: Progression
Label: Massacre Records
VÖ: 2013
Genre: Melodic Death Metal, Metalcore, Thrash Metal
Bewertung: 4/5
Written by: Thorsten Jünemann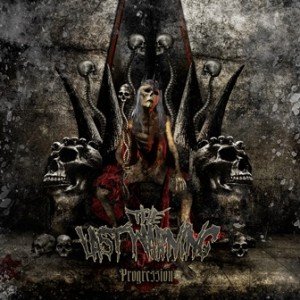 THE LAST WARNING aus Österreich spielen bereits seit 1999 gemeinsam auf sämtlichen Bühnen der Welt und haben mit "Progression" ihr bereits 4. Album am Start.
Gekonnt wird Modern Thrash Metal präsentiert, mit diversen oldschooligen Death Elementen versetzt und sauber von R.D. LIAPAKIS (MYSTIC PROPHECY, DEVIL´S TRAIN,uvm) produziert.
Wie bereits eingangs erwähnt, können die Thrasher auf eine sehr bewegte Live-Karriere zurückblicken, denn sie konnten nicht nur in Europa punkten sondern wurden u.a. auch nach Indonesien eingeladen um vor 25.000 – 45.000 Zuschauer als Headliner den Papst im Kettenhemd boxen zu lassen… Dabei teilten sie sich die Bühnen mit diversen anderen Szenegrößen und konnten erstmals live Feuertaufen bestehen, bevor sie im Studio verschwanden um 2004 ihr recht gelungenes Debüt zusammenzuzimmern (sieht man mal vom 2003er Demo-Album ab!)..
Während das Album läuft und läuft und wieder läuft, bringt es kurzweilige Freude, doch irgendwie schaffen es die ambitionierten Metalheads nicht einen Song zu schreiben, der sich durch die Gehörgänge ins Hirn windet, um dort länger als die Laufzeit der CD zu verweilen.
Letztendlich aber, kann man nicht über schlechtes Songwriting meckern, man hat eher das Gefühl, dass hier und da nur eine kleine Idee/eine Nuance fehlt, was die Gesamtleistung der Band aber nicht wirklich schmälert und das Album von mir 4/5 Punkte erhält!
THE LAST WARNING haben das Zeug, sich im völlig überfüllten Thrash-Becken, gradewegs in die europaweite Etablierung zu spielen! Und heißt´s: Touren, touren, touren,…..aber das haben die Jungs ja auch seit fast hast 1,5 Dekaden drauf…
Tracklist:
01. The Beast
02. Devil Inside
03. Progression
04. The New Sign
05. Pain And Hate
06. Awake The Red Lion
07. Run
08. Down To The Ground
09. Haunted
10. Now I Bleed
11. Fake Blood
12. Say Goodnight
Besetzung:
Hans-Jürgen Moitzi (voc)
Markus Zuber (drums)
Roland Sattler (guit)
Stefan Lanz (guit)
Stefan Reiter (bass)
Internet:
The Last Warning Website
The Last Warning @ Reverbnation