Band: THE ORDER OF ISRAFEL
Titel: RED ROBES
Label: Napalm Records
VÖ: 27.05.2016
Genre: Doom Metal
Bewertung: 4,5/5
Written by: Mayhemer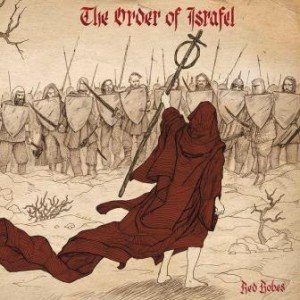 The Order of Israfel stammen aus Schweden und haben 2014 ihr Debut "Wisdom" veröffentlicht. Das damals veröffentlichte Material fand derart großen Anklang bei Presse und Fans, dass den Jungs eh nichts anderes übrig blieb, als weiterzumachen. Apropos Jungs: Tom Sutton dürfte vielen von euch ein Begriff sein. Er spielte bei Church of Misery und auch sein Kollege Patrik Andersson Winberg ist kein Unbekannter. Er hatte seine Finger bei Doomdogs im Spiel, die auf wirklich gute Veröffentlichungen zurückgreifen können. Da aber beide Mannen den Scheideweg bei den betreffenden Bands einschlugen, hieß es von nun an gemeinsame Sache zu machen. Ergänzt wurde das Duo durch die beiden Musiker Hans Lilja und  Staffan Björck.
Das neue Album "Red Robes" in die reine Doom Richtung zu drängen, wäre nicht richtig. Die 4 Mannen spielen sich mit ihren Möglichkeiten und man erlebt über das gesamte Album verteilt eine geniale Mischung aus dem Rock der 1970er, leichtem NWOBHM Einschlag, Stoner Rock und natürlich Doom. Es werden Erinnerungen wach an Thin Lizzy, Black Sabbath oder bzw. und natürlich auch Candlemass. Die überlangen Songs machen als gesamtes Album und als einzelne Songs gewaltig Spass und haben eines NICHT: Diese doomige, zähe Schwere. Es ist eher ein locker – flockiges Doom Rock Album der 1970er und vor allem der EXTRAKLASSE. Die Band wurde eindeutig in der falschen Zeit geboren. Ich bin begeistert und Fan! Daumen hoch! Rock on
Tracklist:
01. Staff In The Sand
02. The Red Robes
03. In Thrall To The Sorceress
04. Swords To The Sky
05. Von Sturmer
06. Fallen Children
07. A Shadow In The Hills
08. The Thirst
Besetzung:
Tom Sutton (Vocals, Guitars)
Patrik Andersson Winberg (Bass)
Hans Lilja (Drums)
Staffan Björck (Guitars)
Internet:
THE ORDER OF ISRAFEL Website
THE ORDER OF ISRAFEL @ Facebook