Band: The Outside
Titel: Dawn Of The Deaf
Label: Bret Hard Records
VÖ: 2014
Genre: Thrash Metal
Bewertung: 3,5/5
Written by: Daniel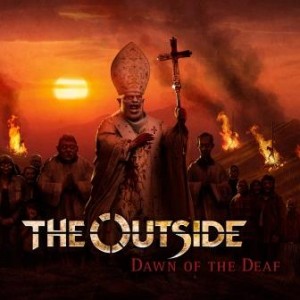 Ein schickes Cover, ein feiner Sound und beim richtigen Label. Die Kriterien stimmen, und in Sachen Thrash macht man Bret Hard einfach nichts vor. Und The Outside offensichtlich auch nicht, handwerklich legt man eine reife Leistung hin, die Songs sind durchweg stark und der manchmal etwas holprige Gesang gehört beim Thrash dazu. Dieses Album kann man, was die Inspiration der Protagonisten anbelangt, sehr präzise umschreiben:
Kreator, ick hör dir trappsen! Und das liegt nicht nur an Sänger Roland, der Mille sehr ähnlich klingt. Auch die Gitarrenfraktion ist mit schnellen, sehr detaillierten Melodien bewaffnet und glänzt durchweg. Wem die letzten Werke der Essener Genreweltmeister zu verspielt sind, der wird besonders bei When Leaders Fall, To The Innocent, Dawn Of The Deaf, In Decadance, New Disorder und Of A Nation den Kniefall vor den heimischen Lautsprechern üben. Mein persönliches Highlight ist allerdings das stampfende Ashes, welches zumindest stellenweise mal nicht nur nach den großen Vorbildern klingt.
Und damit kommen wir zum einzigen Haken dieses Zweitwerkes:
Ein wenigstens ansatzweise eigenes Profil sucht man hie r(im Gegensatz zu den Labelkollegen von Terrorblade) vergebens, daran sollte die in Berlin ansässige Multikultikapelle dann  doch noch mal werkeln. Ansonsten ist Dawn Of The Deaf ein wirklich tolles Thrashscheibchen geworden.
Trackliste:
01. Defy
02. End of Trust
03. When Leaders Fall
04. Until the World Takes Us
05. To the Innocent
06. Dawn of the Deaf
07. Ashes
08. In Decadence
09. New Disorder
10. Of a Nation

Besetzung:
Roland B. Marx – vocals
Sergio Klein – guitars
Ishay Sommer – bass
Alberto Atalah – drums
The Outside im Internet:
Homepage
Bandcamp
LastFM
MySpace