Band: Turisas
Titel: Stand Up and Fight
Label: Century Media
VÖ: 2011
Genre:Folk/Symphonic Metal
Bewertung: 2,5/5
Written by: Much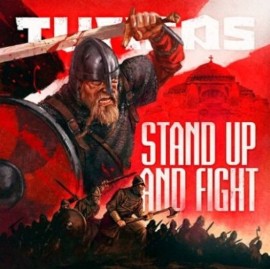 Turisas kehren der Metalgemeinde den Rücken zu und produzieren von nun an nur mehr Blockbuster Soundtracks. Produziert von Hans Zimmer. Dirigent des beigesteuerten London Symphony Orchestra (Star Wars) ist übrigens Ennio Morricone. Eine derartige Schlagzeile würde mich seit dem Probehören an ihrem dritten Album "Stand up and Fight" nicht wirklich verwundern.
Selbst Feinde der Satire werden spätestens jetzt bemerkt haben, dass das 2011er Werk zu viel des Guten beinhaltet. Der Werdegang der Finnen von dem ersten Album "Battle Metal" über "the Varangian Way" bis hin zu "Stand up and Fight" – Demos, Singles und Videomaterial außer Acht gelassen – folgte einem steigendem Gebrauch von orchestralen Klängen und Schlachtchören. Was anfangs noch recht Trickreich eingebaut wurde, schien dem Übergenuss zu verfallen.
Garstigere Gesangsstrukturen oder schnellere Drumparts a la "Among Ancestors" oder "Midnight Sunrise" sind rar gesät. Dieses Album befindet sich auf einem derartig hohen Epic-Level, dass es in einem Stück eher unverdaulich ist. Nach zwei- drei Tracks hängt einem das Orchester aus jeder Körperöffnung. Eine Weiterführung ihres "Rasputin-Experiments" wäre da wohl wesentlich Sinnvoller gewesen!
Keineswegs schlecht in Szene gesetzt oder gar produziert, nein. Aber wie in einem guten Film lebt auch die Musik von Höhen und Tiefen, die den nötigen Kontrast erzeugen und dem Hörer die nötige Verschnaufpause zur Interpretation geben. Als spannend wird sich auch die Frage um die Livepräsentation erweisen. Um die Fanfarenklänge, Schlachtchöre und Streichtiraden zu meistern führt wohl oder übel kein Weg am Semi-Playback vorbei.
Fazit: Für Soundtrack Liebhaber und eingefleischte Fans dieser Band einen Versuch wert, ansonsten zu schwere Kost!
Tracklist
01. The March of the Varangian Guard 03:51
02. Take the Day! 05:26
03. Hunting Pirates 03:43
04. Venetoi! – Prasinoi! 03:49
05. Stand Up and Fight 05:27
06. The Great Escape 04:51
07. Fear the Fear 06:14
08. End of an Empire 07:16
09. The Bosphorus Freezes Over 05:37
Besetzung
Mathias D.G. "Warlord" Nygård (voc)
Jussi Wickström (guit)
Hannes "Hannu" Horma (bass)
Tuomas "Tude" Lehtonen (drums)
Olli Vänskä (violin)
Netta Skog (accordion)
Internet
Turisas Official Website